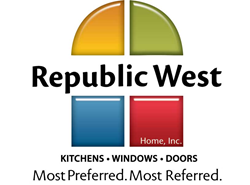 Phoenix, AZ (PRWEB) March 04, 2016
Republic West Home is offering homeowners the chance to install new, custom fit blinds in their homes with a 30% off discount.
The custom-made additions allow home owners to install the same style across their home without having to worry about sizing or matching and they are available in a variety of styles, colors and materials. Along with a variety of styles, homeowners can expect a wide assortment of materials with even more customizable options from one blind style to the next.
With temperatures warming up, Republic West Home encourages homeowners to begin the installation process soon to reap the benefits of these functional blinds. Each style comes with numerous benefits from light control to added insulation, perfect for the Valley summertime heat.
Republic West Home blinds are also perfect for maintaining privacy and security in the home thanks to customizable opacity, fabrics and perfectly fit cuts tailored to fit any window regardless of size and shape.
Republic West Home is excited to offer these options for homeowners looking to give their windows more function and style before the heat strikes. Offers like these and more can be found at http://republicwesthome.com.
Republic West Home is a licensed, bonded and insured contractor servicing Scottsdale and Phoenix, Arizona as well as Las Vegas and all surrounding cities. Free estimates can be obtained seven days a week by calling (480) 423-9300.
About Republic West Home:
Republic West Home is a company that stands for quality, honesty and the best value. Our vision, in an industry often lacking ethics and reliability, is to deliver the best home improvement experience possible.
To deliver the best possible experience before, during and after the completion of your project, an extensive team of professionals was put in place: employees driven to make the home improvement experience a great one for you, our customers. The formula works and the pleasant experiences we create for our customers have paid off. In an industry where repeat business averages less than 5%, Republic West Home and our 15,000+ clients generate an amazing 50% of our business from previous customers and referrals.
For additional information, please call 480-423-9300 or visit http://www.republicwesthome.com
About Tank Paint:
In the never ending battle against the elements, Tank Paint is your newest ally. Once only available to high end contractors and the government sectors, Tank Paint has been uniquely engineered to provide a lifetime warranty against chipping, peeling and cracking and provides an impenetrable moisture barrier that truly acts like a coat of armor for your home. Tank Paint, now available to the civilian market is only available through their trained network of dealers.
For more information, please visit http://www.TankPaint.com .
Media contact:
Jason W. Jantzen
Phoenix Marketing Associates
http://www.PhoenixMarketingAssociates.com
602-282-0202