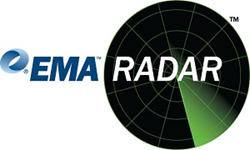 Boulder, Colo. (PRWEB) March 08, 2016
Enterprise Management Associates (EMA), a leading IT and data management research and consulting firm, today announced it will host a webinar titled "EMA WLA (Workload Automation) Radar: A Review of Top Workload Automation Tools," featuring Dan Twing, president and COO at EMA.
Hybrid cloud, DevOps, big data and digitalization are driving a need for more sophisticated workload automation, which underpins the consistent delivery of traditional and cutting edge workloads. Modern workloads require more sophistication; data is collected from a greater variety of sources, and the success or failure of job streams can be directly exposed to both business users and customers. Significant enhancements in workload automation tools have been added in recent years to address these trends.
During this 45-minute webinar, Twing will discuss these trends and reveal key results from the recently published EMA Radar™ on Workload Automation, including an overview of WLA solutions from the following vendors:
Arcana
ASCI
Automic
BMC
CA Technologies
Cisco Systems
Flux
HelpSystems
IBM
MVP Software
SMA Solutions
Stonebranch
Vinzant
The webinar is Tuesday, March 15 at 2:00 p.m. Eastern. Those who wish to attend can register at: http://research.enterprisemanagement.com/wla-radar-2016-webinar-pr.html
About EMA
Founded in 1996, EMA is a leading industry analyst firm that specializes in providing deep insight across the full spectrum of IT and data management technologies. EMA analysts leverage a unique combination of practical experience, insight into industry best practices, and in-depth knowledge of current and planned vendor solutions to help their clients achieve their goals. Learn more about EMA research, analysis, and consulting services for enterprise line of business users, IT professionals and IT vendors at http://www.enterprisemanagement.com or blogs.enterprisemanagement.com. You can also follow EMA on LinkedIn, Twitter, and Facebook.