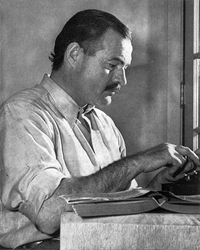 Hemingway fell in love with the land, the people and the trout fishing — which he described throughout his life in letters and stories.
Jackson, Wyoming (PRWEB) March 04, 2016
Many of even the most avid Ernest Hemingway fans aren't familiar with his longtime love affair with Wyoming, says author Darla Worden, who researched and wrote an article on Hemingway's ties to the state, "Hemingway's Wyoming: A Cockeyed Wonderful Country," just published in the spring 2016 issue of Big Sky Journal magazine. Worden, who also hosts the Left Bank Writers Retreat in Paris each June visiting Parisian Hemingway landmarks and sharing his writing tips, followed in Hemingway's Wyoming footsteps for the article, personally visiting many of the sites mentioned in her article.
"As a Wyoming native, it was exciting to discover that Hemingway actually visited and finished his novel "A Farewell to Arms" near my hometown of Sheridan," says Worden. "Then visiting his cabin at the Bar BC near Jackson was another thrill – to think of him exploring my native state, a place that I sometimes have taken for granted, forgetting that it's arguably one of the most beautiful places on earth."
Hemingway first arrived in Wyoming, in the tiny ranching town of Big Horn, in 1928, on the heels of his success with the publication of "A Sun Also Rises." Hemingway "fell in love with the land, the people and the trout fishing — which he described throughout his life in letters and stories," Worden writes in the article. After stays at two area ranches and at the Sheridan Inn, catching trout and finishing "A Farewell to Arms," he continued up through Yellowstone National Park and on to Jackson Hole for fishing on the Snake River with then wife Pauline before returning to Sheridan.
"Hemingway's routine was to write in the morning and fish in the afternoon," writes Worden, adding that his fishing log, which he kept throughout his life, "shows that he and Pauline caught 600 trout during their month of fishing in Wyoming."
On a second trip in 1930, while at work on his "bullfighting book" (which would become "Death in the Afternoon"), Hemingway and Pauline rambled farther north to a remote ranch on the outskirts of Yellowstone National Park with fishing on the Clark's Fork of the Yellowstone River – a trout fisherman's dream that he would later call "the best fishing in the world."
Wyoming isn't the only place where Worden has followed Hemingway's travels. A trip she took to Paris visiting the sites in his famous "A Moveable Feast" formed the basis for her Left Bank Writers Retreat in Paris, now in its seventh year. Worden founded the six-day small-group writing workshop and literary tourism experience with a focus on the writing techniques and literary landmarks of Hemingway and the cohort of now-famous writers who lived on Paris's Left Bank during the 1920s, writing and congregating in the city's cafes and bars to share ideas.
About Darla Worden:
Darla Worden is a writer who lives in Jackson, Wyo., Denver, Colo., and Paris, and is principal of WordenGroup Public Relations, with offices in Jackson Hole and Denver. Worden, who hosts the annual Left Bank Writers Retreat, which takes place on the historic Île Saint-Louis in the heart of Paris, has written widely for magazines and authored several books. She writes the popular blog Frenchophile and is currently working on a book about Hemingway.
Contact: Darla Worden, WordenGroup Public Relations, darla(at)wordenpr(dot)com, 303.777.7667