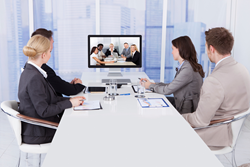 Searchable audio files now convert video archives into highly accessible and discoverable content.
Orlando, FL (PRWEB) March 07, 2016
Today at Enterprise Connect, VoiceBase – a leading provider of easy-to-use speech APIs – announced that VBrick has enhanced its video search capabilities by integrating the VoiceBase API to provide on-demand transcription services to Rev customers. The VoiceBase-powered transcriptions will be part of the core search process in Rev. Videos with a match in the transcript will be displayed so that users can jump to, and playback, the precise points in that video where the search term is mentioned.
"This integration with VoiceBase shows our commitment to continuous and rapid innovation in our next-generation Rev platform," said Brian Dreyer, Rev Product Management Director for VBrick. "Searchable audio files convert video archives into highly accessible and discoverable content. This is the first step in a series of search innovations we plan to unveil in the coming year," continued Dreyer.
The VoiceBase API powers a secure speech recognition and speech analytics platform that processes millions of audio and video files every month. "We are excited to have VBrick embrace our Big VoiceTM vision to surface the spoken insights businesses need, to make better decisions," said Walter Bachtiger, Founder and CEO of VoiceBase. "Our VBrick partnership extends our reach to enterprises with webcasting, unified communications, video conferencing and publishing applications."
About VBrick
VBrick pioneered the next-generation of enterprise video through Rev® cloud-native platform. Named the market leader in Enterprise Video Webcasting for two consecutive years by industry analysts Frost and Sullivan, VBrick's platform allows organizations to use video ubiquitously by converting it into bandwidth-efficient streams that can be securely viewed through a web browser from any connected device. Built to leverage any cloud platform, organizations can reach audiences in the tens of thousands, compared with a few hundred using traditional web conferencing services. VBrick Rev enables organizations to centrally integrate all of their video sources, including video conferencing and unified communications, while delivering a dynamic, consumer-grade experience for employees. Visit http://www.vbrick.com.
About VoiceBase
VoiceBase provides easy-to-use APIs that automatically transcribe audio and video, provide speech analytics with extracted keywords and topics, and predictive analytics based on machine learning technology. Every month VoiceBase processes millions of recordings that allow users to search from the web or their mobile device into the timeline of a recording, and play the precise parts of a phone call, conference call or webinar, educational lecture, podcast or video for example. VoiceBase's customers include Nasdaq, VBrick, FreeConferenceCall.com, HireVue, Invoca and Callcap. The company is privately held and is based in San Francisco, California. Visit http://www.voicebase.com