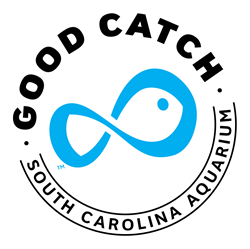 Charleston, S.C. (PRWEB) March 03, 2016
From the Lowcountry coast to the dinner plate, delicious and sustainable fare from local farmers and fishermen will be served at the next South Carolina Aquarium Good Catch dinner. SALT at Station 22 will host the dinner on Sullivan's Island, March 14 at 6:30 p.m. Executive Chef Charles Arena will create a multi-course dinner, with wine pairings, featuring the best catch from the Lowcountry.
Offerings include:

West coast oyster with tuna, strawberry, and basil paired with the Santa Julia, Sparkling Brut Rose, Mendoza, Argentina, NV
Flounder and Avocado ceviche paired with Pierre Henri, Sauvignon Blanc, Languedoc-Roussillion, France, 2014
Fresh catch three ways including tempura fried, sushi roll, and cake, paired with Graham Beck, Chenin Blanc "The Game Reserve", Western Cape, South Africa, 2014
Bay scallops, Maitake mushrooms, pancetta, orecchiette paired with Santa Luz, Chardonnay Alba, Central Valley, Chili, 2015
Shrimp Cassoulette paired with Terradora di Paolo, Aglianico, Campania, Italy, 2012
Chocolate mousse paired with Quinta de la Rosa, Rudy Port Lot 60, NV
South Carolina Aquarium Good Catch Manager Shelley Dearhart will attend to share information with diners about Good Catch and ways to make sustainable seafood choices when dining out and at home. Tickets are $65 plus tax and gratuity, and include wine pairings. Space is limited, and reservations are required. Call (843) 883-3355 to make your reservation. A portion of proceeds benefit Good Catch at the South Carolina Aquarium.
Fast Facts:

The Good Catch dinner takes place Monday, March 14 at 6:30 p.m.
SALT at Station 22 is located at 2204 Middle Street, Sullivan's Island, S.C.
Tickets are $65 and include five courses and wine pairings
A portion of proceeds benefit Good Catch at the South Carolina Aquarium
Space is limited, so call (843) 883-3355 to make a reservation
For all media inquiries, please contact Kate Dittloff at (843) 579-8660 or kdittloff(at)scaquarium.org
About South Carolina Aquarium Good Catch:
Good Catch generates awareness and leads communities in support of healthy fisheries and consumption of responsibly harvested seafood. The program pragmatically balances the health of the environment with South Carolina's demand for seafood by working with consumers and chefs, helping them make wise seafood choices to support healthy, abundant oceans. More than 115 restaurant partners have committed to serve and purchase sustainable seafood whenever possible and to avoid species that are immediately vulnerable to extinction. As a community, when we choose seafood from local, sustainably managed fisheries or dine at restaurants which do the same, we minimize our impact on the environment. Find the most up-to-date Good Catch partner list and more information on making good seafood choices each season at scaquarium.org/goodcatch.
About SALT at Station 22:
Originally built in 1987 as Station 22 Restaurant, SALT is the newest incarnation of a Sullivan's Island tradition. Located on the Middle Street strip "in the center of it all," SALT offers an open air patio, sushi, raw bar, daily fresh fish specials, and signature cocktails. Guests will enjoy SALT's take on southern staples such as she-crab soup, shrimp and grits, and local fish carpaccio. The fresh fish board will feature the days catch with different delicious preparations to choose from. SALT retains the core of the original Station 22 traditions. Guests will still find the black and white photographs on the walls; the world-famous coconut cake is still proudly featured as well as whole fried flounder. For more information visit http://www.saltstation22.com or call (843) 883-3355.
About the South Carolina Aquarium:
The South Carolina Aquarium features thousands of amazing aquatic animals from river otters and sharks to loggerhead turtles in more than 60 exhibits representing the rich biodiversity of South Carolina from the mountains to the sea. Dedicated to promoting education and conservation, the Aquarium also presents fabulous views of the Charleston Harbor and interactive exhibits and programs for visitors of all ages.
The South Carolina Aquarium is a 501(c)(3) not-for-profit organization and is open daily from 9 a.m. to 5 p.m. (last ticket sold at 4 p.m.) The Aquarium is closed Thanksgiving Day, half day Dec. 24 (open 9 a.m. to 1 p.m.) and Dec. 25. Admission prices are: Toddlers (2 and under) free; Youth (3-12) $17.95; Adults (13+) $24.95. The Aquarium plus the 4-D Theater experience is free for Toddlers, $22.95 for Children, $29.95 for Adults. The 4-D Theater experience only is $6.95 for Children and Adults and free for Members. For more information, call (843) 577-FISH (3474) or visit scaquarium.org.
###