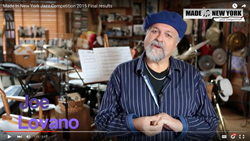 The winners are publicly announced by the judges, living jazz legends Joe Lovano, Lenny White and Randy Brecker
New York, NY (PRWEB) March 04, 2016
The winners of the third, annual Made In New York Jazz Competition 2015 have been announced. True to the competition's claim, the winner of the 2015 competition is João Barradas from Portugal. Second place awarded to Karim Maurice from France and third place to Giulia Malaspina from the United States.
The winners are publicly announced by the judges, living jazz legends Joe Lovano, Lenny White and Randy Brecker. Here is the announcement: https://youtu.be/V1-_OlXF-9I
With the Made in New York Jazz Competition entering its fourth year this 2016, the announcement is setting the start of another year of competition for jazz musicians around the globe. Made in New York Jazz Competition has already participants from 47 countries and counting.The competition has made its mark as the internet's first ever online jazz contest and is now considered as the most popular jazz competition on the web. This year Made In New York Jazz Competition holds 1st rank in the main search engines Google, Bing and Yahoo.
Winners:
João Barradas is one of the most recognized young accordionists in Europe. João is one of the most distinguished voices on the accordion jazz scene nowadays working as a leader or sideman with names like: João Paulo Esteves da Silva, Sérgio Carolino, Nelson Cascais, Bruno Pedroso, Carlos Barretto, Paula Oliveira, João Moreira, Afonso Pais, Pedro Madaleno, Alexandre Frazão, Hugo Trindade, Marcelo Araújo, Ricardo Toscano, Bernardo Moreira, Gileno Santana, Joel Silva, Demian Cabaud, Rita Maria, Luís Candeias, Eduardo Cardinho, Yuri Daniel, Jacob Sacks or ‪Sarpay Özçağatay.
"I regard João Barradas as a beacon in the future development of accordion as a serious instrument. He is a master of all styles from classical repertoire and is the most convincing jazz improviser I have heard to date on the instrument." - Gil Goldstein
Karim Maurice submitted an exciting, performance of his own song, first winning the Composer's category and later taking the 2nd place in the entire competition. Amazingly arranged song together with an explosive performance by Giulia Malaspina brought her 3rd place in Made In New York Jazz Competition.
"The talents keep surpising us every year! I'm happy to be part of this great, discovery process. Our community grows very fast and this is incredible feeling to see some of the artists succeeding after participating in Made In New York Jazz Competition" says Misha Brovkin, founder of the competition.
The Made in New York Jazz Competition has gone a long way in helping make people aware of how vibrant the jazz scene is on an international scale. Every year the organization holds an international online jazz competition. Winners together with selected participants get a chance to perform in New York sharing the stage with some of the world's biggest jazz names. This year, the International Jazz Gala in New York is scheduled for May 21st at Tribeca Performing Arts Center, and the anticipation surrounding it is incredibly high.
About the Made In New York Jazz Competition
The Made in New York Jazz Competition enters its fourth year in 2016. Featuring a worldwide audience of jazz fans, as well as a slate of musicians from dozens of countries, the Made In New York Jazz competition made its mark on the Internet as the online jazz contest. In 2015, Made In New York Jazz Competition was marked as number one jazz competition on Google, Yahoo and Bing - out of 40 million results. With over 2 million video loads, Made In New York has 30,000 registered jazz musicians and fans, and that number is constantly growing.