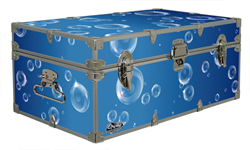 Imagine an entire camp trunk covered in colorful patterns...
Boyd, WI (PRWEB) March 07, 2016
A good looking camp trunk has a charm and character that is sure to complement its surroundings and add even more personality as well as atmosphere to a room. It's great to appreciate that classical look of an elegant footlocker trunk, but don't be afraid to turn that elegant look on its ear to give it an edge and really make it an exciting piece!
Imagine an entire camp trunk covered in colorful patterns like Aztec Stripes, Anchors Aweigh, Space Odyssey, Paisley Explosion, Bubbles, and many more!
Unafraid of originality, summer camp retailer, Everything Summer Camp introduces their new Designer Trunks which feature designs that are sure to grab everyone's attention! They offer over 100 options to choose from and they're only continuing to add more. With so many options adding up quickly, Designer Trunks are certain to deliver a trunk that strikes everybody's fancy.
Constructed the same as their most popular Happy Camper Trunk, they simply swap out the steel for a durably-laminated and dazzling, high-definition print. The print comes off a giant, wide-format printer and is then laminated for nearly indestructible protection. It's then applied to the trunk before the hardware goes on. Once complete, Designer Trunks are more durable than paint!
The likes of this trunk have never been seen before! Summer camp outfitters like Everything Summer Camp know how much our customers love to make their camp trunks into their own creations and works of art. That's why Everything Summer Camp has conceived of—what is clearly—the best way to dress up a camp trunk with cool colors and fun designs.
"We knew we hit something big the moment we got the idea," says Ed Holand, president of Everything Summer Camp. So get excited and check out awesome, new Designer Trunks on the Everything Summer Camp website to find the perfect trunk to match any personality!
About Everything Summer Camp
Everything Summer Camp has been helping kids get ready for summer camp since 1987. Their wide selection of camping gear includes camp trunks and other camping supplies. Top selling items include water bottles, cot-sized bedding, rain jackets, insect repellent, iron on labels, and more. Known for their customer service and fast shipping Everything Summer Camp is recommended by more camps than any other camp outfitter.
Visit http://www.EverythingSummerCamp.com to learn more about camp footlockers, name labels, duffel bags, and camping supplies.