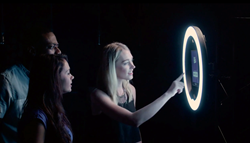 Clients find that it's the best way to join the digital conversation happening with their guests.
Orlando, Florida (PRWEB) March 14, 2016
Gifn is providing a new consumer engagement tool to businesses that snaps gifs and lets customers share to social media channels. The wall-mounted social technology is now available nationwide in restaurants like Bahama Breeze and Shake Shack Las Vegas.
"People love taking selfies, and we want businesses to encourage customers to take selfies with their brand while they're in store. People are really drawn to it," says Cynthia Adams, Marketing Manager at Gifn.
When using Gifn, guests create and send gifs while shopping or waiting in line. Gifs are shared instantly on the store's stream, and guests can send gifs to their phones or social media channels like Facebook, Instagram and Twitter. Stores can also customize gifs with brand logos and hashtags.
Guests to Bahama Breeze's Viva La Rita event are snapping over 500 gifs per day.
"Our guests are already enthusiastic selfie takers. We're thrilled to see that they are taking over 500 Gifns a day. It makes their experience with us more memorable and shareable," says Jaime Bunker, Vice President of Brand Management at Bahama Breeze. "We're very excited to be an early adopter of this very cool technology in the restaurant space."
Bahama Breeze is kicking off a new margarita campaign by using Gifn booths to share gifs from guests inside the restaurant. The Gifn stream for Bahama Breeze's Viva La Rita event is customized with a theme, logo and hashtag. Guests started sharing their gifs at Viva La Rita in February.
On the business side, Gifn booths also support email signups for guest loyalty programs and tracking social engagement with consumers in different channels.
As for guest experience technology, Gifn is also much smaller than old in-store entertainment like photo booths and jukeboxes. Gifn devices only need a wall to hang on.
The Gifn booth is brand new, in-store entertainment with modern social features and an online gif stream that can be linked to or displayed on a website. For social marketing purposes, the gif machine is another way for brands to connect to guests and improve consumer engagement from inside stores. Gifn even tracks social performance and provides a weekly report.
"I think we're just starting to bring streaming tech to businesses that want to join the digital conversation happening with customers every day. It's pretty exciting to see how guests react to it," adds Adams.
Throughout Viva La Rita at Bahama Breeze, guests can stop in to take gifs with Gifn and share their experiences directly through the gif booth. To see gifs taken with Gifn on Twitter, just search #VivaLaRita.
For more information about gif booths by Gifn, visit http://www.gifn.it.