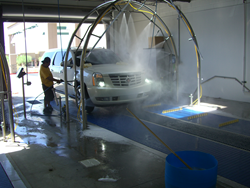 Most causes of odors in a car wash stem from issues that are relatively simple to fix.
Salt Lake City, Utah (PRWEB) March 08, 2016
It's no joke that car washes can stink, this is certainly not ideal since a car wash is the place people come to make things clean. Some may have noticed something was off when they walked past the wastewater collection pit or into the equipment room. Here are 5 interesting facts about what makes a car wash stink.
5) Other people's pollutants. When people wash their vehicles, they are washing off all of the nasty stuff found on the road and in the air. These include pathogens contained in the soils, simply put, bad bacteria. This grit and grim needs to runoff somewhere, usually to a collection pit that separates the solids from the fluids. This is a prime breeding ground for odor causing bacteria.
4) Poor water recycling. Many car washes are moving to recycle their wash water and much of the time that is due to water use restrictions. But, most times they are not properly treating their wash water to eliminate bacteria. Hence we now have a bad smell masked by soaps and/or fragrances added to the system in an attempt to combat the odor.
3) pH imbalance. There are a lot of chemicals in a car wash, and making sure that acidity and alkalinity are balanced can help alleviate unwanted smells and keep customers happy and coming back.
2) Standing water is the enemy. Think about it, if water is left in a bucket for a while lots of disgusting pathogens will form. Reflect on that when looking at the entire infrastructure, trenches, pits, and pipes inside the car wash. Aerobic bacteria cause hydrogen sulfide gas (swamp smell).
1) Hydrocarbons. Let's face it, the oils from asphalt and vehicle leaks flow into the waste water from a car wash. Oils and greases are consistently found in collection pits. These hydrocarbons are ideal for food for bad bacteria to thrive.
Most causes of odors in a car wash stem from issues that are relatively simple to fix. The key is being able to recognize where and how odors can arise and addressing them appropriately. Hydro Engineering, Inc. has over 30 years of experience installing car washing equipment including pressure washers, waste water filtration, and wastewater collection. Hydro even has a solution for dealing with odors and bacteria with Biodigesters.
Biodigesters are the simplest method to eliminate odors. Hydro's solution requires virtually no maintenance. The Hydrokleen Bioreactor automatically doses waste water with its proprietary enzyme and bacteria formula that consumes and breaks down hydrocarbons, organics, and consumes them removing the food pathogens feed on.
Contact the Experts today at:
Hydro Engineering, Inc.
865 W 2600 S
Salt Lake City, UT 84119
800-247-1181
http://www.hydroblaster.com