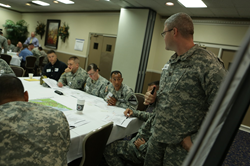 ...Bringing best-in-class transition seminars to the military community highlights our commitment to making life easier for those who sacrifice so much to protect our freedom and preserve our way of life.
(PRWEB) March 04, 2016
Next week, service members and military spouses from every military branch will gather at the Cole Park Commons to participate in the USAA-sponsored Military Transition Seminar (MTS). This day-long course is provided free of charge and open to all ranks and branches. Dress is business casual unless duty dictates otherwise.
The MTS is a strategic planning and transition preparation program created-and-delivered by U.S. veterans from VOSB (Veteran Owned Small Business), Afterburner, Inc. The seminar supports the current mandated transition preparation training known as SFL-TAP, providing a hands-on workshop that shares the lessons learned and best practices of successfully transitioned veterans.
USAA has sponsored the MTS program since 2014, enabling more than 2200 service members and spouses to create nearly 2000 transition plans. The partnership demonstrates both organizations' commitment to empowering veterans with the tools and resources to drive a successful transition.
"Transitioning from the military to civilian life can put a strain on military members and their families," said Renee Sokolowski, assistant vice president of Military Transition / Innovation at USAA. "Bringing best-in-class transition seminars to the military community highlights our commitment to making life easier for those who sacrifice so much to protect our freedom and preserve our way of life."
The course is based upon the veteran career planning guide Down Range (2013), which leverages two decades of corporate training and consulting by Afterburner's team of more than 50 current and former fighter pilots, Navy SEALs and other Special Operators. Down Range and the correlating MTS draw upon the collective transition experiences to introduce a wholly unique transition experience to US service members.
The MTS curriculum helps service members to focus on a desired future state, then working backward to the initial post-transition Course of Action. This ensures the service members efforts remain strategically aligned to their goals, providing a holistic approach to post-transition career success.
Learn more about the Military Transition Seminar, review upcoming dates and locations as well as register online at http://www.FlawlessTransition.com. Learn more about USAA's military transition tools and advice at usaa.com/leavingthemilitary.
For additional information, contact Roger Nixon, Director of Embed via email at rnixon(at)afterburner.com or by phone at (855) 599-0241.
______________________
About USAA
The USAA family of companies provides insurance, banking, investments, retirement products and advice to 11.2 million current and former members of the U.S. military and their families. Known for its legendary commitment to its members, USAA is consistently recognized for outstanding service, employee well-being and financial strength. USAA membership is open to all who are serving our nation in the U.S. military or have received a discharge type of Honorable – and their eligible family members. Founded in 1922, USAA is headquartered in San Antonio. For more information about USAA, follow us on Facebook or Twitter (@USAA), or visit usaa.com.
About Afterburner®
Afterburner Inc. was founded in 1996 by U.S. Air Force fighter pilot James "Murph" Murphy and trains organizations around the world in the simple, scalable improvement processes of Flawless Execution. Afterburner brings elite military precision to top corporations around the world with a client list that includes over 85% percent of the U.S. Fortune 50. Afterburner is one of Forbes 2016 Best Small Companies in America and is a four-time nominee to the Inc. 500/5000. Afterburner team members have been featured in leading publications like The Wall Street Journal, BusinessWeek, Financial Times, Newsweek, Slate, Sports Illustrated and Atlanta Business Chronicle. Afterburner also has appeared on CNN, ABC, CNBC, Fox News, HLN and Bloomberg News, among others. To learn more about Afterburner's innovative approach to building elite teams and Flawless Execution, visit http://www.Afterburner.com or call (888) 982-6764.