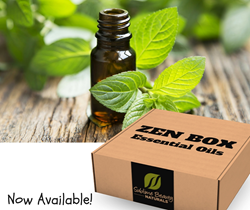 Essential Oils improve wellness and add joy to each day. ZEN BOX helps to build the collection and knowledge of use.
St. Petersburg, FL (PRWEB) March 08, 2016
Essential Oils help improve wellness, from strengthening the immune system to helping with sleep or anxiety. They are concentrated essences extracted from plants with natural power.
ZEN BOX from Sublime Beauty Naturals® is an easy way to build a collection of Essential Oils and learn how to use them. The subscription box includes 3 new Essential Oils each month plus a 4th bonus item each quarter. Sublime Naturals sends a detailed profile sheet with information on how to use each.
For those who sign up before midnight on March 14th receive a free Lavender Essential Oil at sign up as well as a special folder to hold the monthly profiles. Use the coupon code SUBBOX20ZEN at checkout to receive 20% Off for an entire year.
Want to know more about Essential Oils and ZEN BOX? Review our content site with FAQs. Ready to subscribe? Go to our Cratejoy site at http://www.zenoilbox.com
ABOUT: Kathy Heshelow formed Sublime Beauty Naturals with the motto to "Make Healthy Choice, Respect Your Body, Love Nature". Essential Oils fit into the motto and mission very well. "I lived in Paris, France for 16 years were Essential Oils are quite common, and accepted by the medical community," says Heshelow. Bringing this knowledge to the U.S. is a mission. "Watch for my book about Essential Oils later this spring," she says.