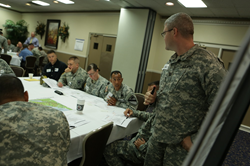 Bringing best-in-class transition seminars to the military community highlights our commitment to making life easier for those who sacrifice so much to protect our freedom and preserve our way of life.
San Antonio, TX (PRWEB) March 04, 2016
Randolph Air Force Base is the next stop for the USAA-sponsored Military Transition Seminar (MTS), a career planning seminar for exiting service members and their spouses. Open to all rank and branches, the Randolph program will be hosted at the Military Plaza in Building 5 from 0700-1700.
The MTS is developed and delivered by veteran-owned-and-operated training firm, Afterburner, Inc® and sponsored by USAA. Since 2014, Afterburner and USAA have delivered 22 seminars across 15 installations, resulting in nearly 2000 transition plans created by more than 2200 service members and spouses. The partnership demonstrates both organizations' commitment to empowering veterans with the tools and resources that drive a successful transition.
"Transitioning from the military to civilian life can put a strain on military members and their families," said Renee Sokolowski, assistant vice president of Military Transition / Innovation at USAA. "Bringing best-in-class transition seminars to the military community highlights our commitment to making life easier for those who sacrifice so much to protect our freedom and preserve our way of life."
The day-long seminar is part of a larger initiative to provide comprehensive military transition training, empowering veterans with the knowledge and skills to think and act more strategically, and doing so well in advance of separation or retirement dates.
During the seminar, service members and spouses are trained to identify key elements of their desired post-military future and the key areas of impact that will make that future a reality. Participants are then able to leverage this learning throughout the transition process to establish a gratifying career of their choice.
These transition plans lend strategic direction to the tactical preparation efforts that round out the MTS curriculum. Participants are trained in critical job search skills, online and offline networking, interview preparation and how to leverage the full support of their networks along the way. The result of which is a class of service members who understand how to use their skill sets and expertise as catalysts to success in their civilian careers.
The MTS seminar is based on the career transition guide, Down Range (2013), co-authored by former USAF F-15 Instructor Pilot and Afterburner Founder & CEO, Jim "Murph" Murphy, and retired U.S. Navy Cmdr. and Afterburner Director of Learning & Development, William Duke.
Written from the first-hand transition experiences of the Afterburner team's former fighter pilots, Navy SEALs and other Special Operators, Down Range equips exiting service members with the Situational Awareness to accurately communicate the value of their service experience and individual areas of expertise. Each participant receives a copy of Down Range and additional career planning resources to maintain progress long after they participate in the course.
Dress is business casual unless duty dictates otherwise, meals and supplies are provided. Learn more about the Military Transition Seminar, review the 2016 schedule and register online at http://www.FlawlessTransition.com. Learn more about USAA's military transition tools and advice at usaa.com/leavingthemilitary.
For additional information, contact Roger Nixon, Director of Embed at rnixon@afterburner.com or by phone at (855) 599-0241.
______________________
About USAA
The USAA family of companies provides insurance, banking, investments, retirement products and advice to 11.2 million current and former members of the U.S. military and their families. Known for its legendary commitment to its members, USAA is consistently recognized for outstanding service, employee well-being and financial strength. USAA membership is open to all who are serving our nation in the U.S. military or have received a discharge type of Honorable – and their eligible family members. Founded in 1922, USAA is headquartered in San Antonio. For more information about USAA, follow us on Facebook or Twitter (@USAA), or visit usaa.com.
About Afterburner®
Afterburner Inc. was founded in 1996 by U.S. Air Force fighter pilot James "Murph" Murphy and trains organizations around the world in the simple, scalable improvement processes of Flawless Execution. Afterburner brings elite military precision to top corporations around the world with a client list that includes over 85% percent of the U.S. Fortune 50. Afterburner is one of Forbes 2016 Best Small Companies in America and is a four-time nominee to the Inc. 500/5000. Afterburner team members have been featured in leading publications like The Wall Street Journal, BusinessWeek, Financial Times, Newsweek, Slate, Sports Illustrated and Atlanta Business Chronicle. Afterburner also has appeared on CNN, ABC, CNBC, Fox News, HLN and Bloomberg News, among others. To learn more about Afterburner's innovative approach to building elite teams and Flawless Execution, visit http://www.Afterburner.com or call (888) 982-6764.