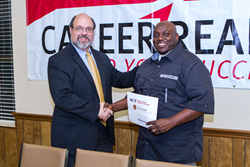 I am proud of these graduates. They worked hard to obtain a nationally recognized certificate, overcoming obstacles in their lives.
Brownsville, TN (PRWEB) March 04, 2016
From a recent high school graduate to a 55-year-old seeking a career change, the first graduates of the Career Ready – Find Your Success program represent diverse backgrounds but share the same optimism to reach their career goals.
Surrounded by family and community supporters, 21 adults received ACT National Career Readiness Certificates during a ceremony held Monday evening at the Brownsville Housing Authority Community Center. Several local dignitaries and representatives from the business and economic development communities attended and offered graduates encouragement, support and the opportunity to network.
Dynametal CEO Bob Nolan, who addressed the graduates during the ceremony, said his company plans to reward prospective employees with as much as $1.00 above the company's starting hourly wage if they earn the highest level of achievement in the program. The ACT NCRC is awarded at four levels – bronze, silver, gold and platinum.
Brownsville-based Dynametal is a supplier of sintered metal bearing and structural components. The company employs approximately 70 people. "We're looking for employees who understand the value and pursuit of education and take the steps required to get a job," Nolan said.
In addition, Director of Tennessee School of Technology Carolyn Beverly advised graduates to be team players at work. "Don't gossip. Respect others," she said. "It's all about the attitude that you have at work and toward others."
Career Ready graduate Mary Robertson plans to continue her education to become an alcohol and drug counselor. "If you want to start over, there's no excuse," Robertson said during Monday's ceremony. "I was a drop out, but I earned my GED. I had surgery last Wednesday, and my hand was bothering me. I didn't feel like taking a test. They offered to have someone type my answers for me, but I didn't want that. I said, 'This is going to be me and God.' And when I scored well enough to move on to the next test, I knew God was with me."
Career Ready participants started training last fall throughout Haywood County in multiple locations, including libraries, churches, Haywood High School and the Tennessee College of Applied Technology. The computer-based program is self-paced and helps participants strengthen their math and reading skills.
Stanton Mayor Allan Sterbinsky said the goal is for Haywood County to receive a Work Ready Community designation.
"The four largest manufacturers in Haywood County recommend that all applicants obtain a Career Ready Certificate. Some companies in West Tennessee (and hundreds across the U.S.) require applicants to have a CRC before they can even apply for specific jobs. We want all Haywood County residents to be prepared for these kind of jobs, as well as the jobs that will come with the Memphis Regional Megasite," Sterbinsky said.
Career Ready Recruiters anticipate the next group of graduates will be even larger than the inaugural group.
"I am proud of these graduates," Sterbinsky said. "They worked hard to obtain a nationally recognized certificate, overcoming obstacles in their lives. The Career Ready Certificate (CRC) gives them a competitive advantage when they apply for jobs."
Last year Career Ready – Find Your Success received a $50,000 workforce award, funded by the Delta Regional Authority through DRA's Reimagining the Delta Workforce initiative. All Haywood County residents are eligible to attend the training. Those interested should contact Sterbinsky (731-548-2565) or Career Ready recruiters: Gwen Gavin (980-522-7724), Linda Jones (731-548-6182) or Hayden Hooper (731-432-9495).