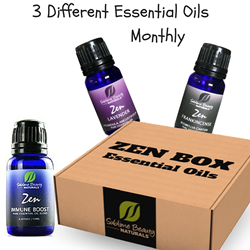 Take ZEN BOX for a "test drive". The inaugural February box is made available as a one-time purchase.
St. Petersburg, FL (PRWEB) March 09, 2016
ZEN BOX, a monthly subscription box of therapeutic quality essential oils, is available on a one-time purchase basis for those who would like to test it before committing.
"We know that essential oils are relatively new to many, and wanted to allow one-time purchases of our February box," says Kathy Heshelow, founder of ZEN BOX and Sublime Beauty Naturals. "We included essential oils that everyone should have: Lavender, Frankincense and the Zen Immune Boost Blend."
Those who purchase will also received a Profile Information Sheet, to learn more about each essential oil, how to use them and interesting facts.
This week ONLY (to Saturday March 12th 2016), a 25% Off discount is available with coupon code TESTDRIVEZEN. Copy the code and purchase here.
Want to know more about essential oils and ZEN BOX? Visit http://www.zenbox-essentialoils.com
Subscribers who want to join the ZEN BOX family for monthly delivery sign up before midnight of the 15th each month; the boxes are shipped the 20th; and rebilling is the 30th. Subscribers have full control of their account, and have a chance to earn a free box when they refer 3 friends who subscribe.