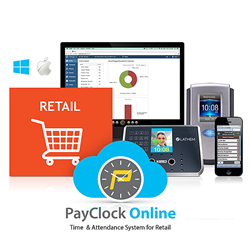 "When everything's available like it is with PayClock Online, it cuts down on time, is simpler to use, and easier to access anytime, anywhere." - Ruth Rettig, office manager
Atlanta, GA (PRWEB) March 04, 2016
American Outfitters Ltd., a Waukegan, Ill.-based screen printing company, is finding employee time and attendance a breeze with Lathem's cloud-based time and attendance system, PayClock® Online.
The company, which employs 70 people and is ranked as one of the nation's Top 100 Screen Printers, has been a Lathem customer for more than 15 years. Office Manager Ruth Rettig says Lathem's PayClock Online combined with Lathem's FaceIN® time clock is by far the easiest time clock she has used.
Rettig manages graphic artists, screen printers, marketers, embroiderers, shippers and receivers, and IT specialists. Before PayClock Online, Rettig would receive emails throughout the day from her field-based sales team, asking her to clock them in and out. These requests were wasting time and creating inefficiencies, as she also received frequent queries to check employees' time and fix errors. She now lets her sales team use their smart phones and tablets to clock in and out through PayClock Online. This means she can now quickly check in on all her employees' time entries once a day, at her convenience, and not get sidetracked with superfluous requests.
The 70 employees clock in with Lathem's FaceIN, which integrates seamlessly with PayClock Online, so Rettig sees all time entries in real-time. A face recognition biometric time clock, FaceIN replaces fingerprint, iris scan and hand readers with a more hygienic and easy-to-use solution. It verifies an employee's face in seconds, and eliminates buddy punching, when employees clock in for each other.
"Before PayClock Online, I was the only person in the company that could use the time and attendance system," said Rettig. "Everything was hooked to my desktop computer, so I had to be at work to access or process anything. When everything's available like it is with PayClock Online, it cuts down on my time, is simpler to use, and easier to access anytime, anywhere. I love that part!"
Rettig can now spend more time on bookkeeping, managing employees, and improving the business, rather than clocking employees in and out, fixing time cards and spending excessive time processing payroll. PayClock Online makes it so easy to edit and run reports, and export them to payroll solutions like QuickBooks®, Paychex® and ADP®.
"Everything's backed up for you, so I don't have to worry about losing data," Rettig said. "That's a life-saver."
About PayClock Online
PayClock Online is a cloud-based solution that enables businesses to manage employee time and attendance anytime, anywhere with an Internet connection. This web-based employee timekeeping system allows managers to quickly process payroll on their own time, when it is most convenient for them. Mobile functionality lets managers track employees' hours or administer payroll from their own mobile devices. It's easy to set up office-based or remote employees to clock in and out from their computers, mobile devices, and even Lathem time clocks, enabling them to view their own time records and paid time off information on the web without supervisor assistance. PayClock Online easily integrates with popular payroll software systems like QuickBooks, Paychex, ADP and more.
About Lathem
Headquartered in Atlanta, Georgia, Lathem is the leading provider of durable and affordable timekeeping products for business. Since 1919, Lathem remains a family-owned and operated US manufacturer. More than 1 million organizations worldwide use a Lathem solution every day to help manage their business, including commercial wall clocks, time stamps, mechanical and biometric employee time clocks, and Lathem's PayClock Online time & attendance system.