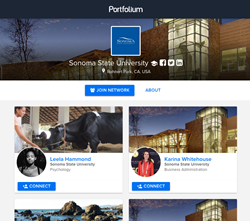 All 9,000 Sonoma students and 40,000 alumni now have access to Portfolium
San Diego, CA (PRWEB) March 08, 2016
Portfolium.com, the ePortfolio network that helps students transform learning into opportunity, has announced a campus-wide rollout to Sonoma State University. All 9,000+ Sonoma students and 40,000+ alumni have been provided with free access to ePortfolios which go beyond the limits of a resume to showcase students' in-class and extracurricular work samples and projects, including evidence of job-related skills.
Employers will have direct access to these ePortfolios via Portfolium's powerful search engine and matching algorithm to help streamline their campus recruiting efforts. Portfolium has also announced plans to release it's new TalentMatch functionality, which will automatically suggest matching candidates for each of an employer's open positions, including internships and full-time job opportunities.
Sonoma State University will also be utilizing Portfolium to pilot its new co-curricular transcript (CCT), which was decided after an extensive review of a number of vendors. Co-curricular transcripts are becoming utilized more frequently by student affairs offices as well as prospective employers to serve as an official record of student accomplishments and involvement in organizations, leadership, community service and professional/educational development programs. They are designed as a means of recognizing "out of class" learning, development, and contributions during a student's college career, making Portfolium an ideal candidate for generating such records.
Within a week of Sonoma's campus-wide launch, students have added hundreds of thousand of unique data points to their network, including thousands of skills, all of which are indexed by Portfolium's recruiting search engine.
"We're very excited to help Sonoma State drive academic and career success for all of their students. It's incredibly rewarding to provide a tool that bridges a university's 'silos of excellence' to fulfill a common mission of helping its students," said Adam Markowitz, Founder and CEO of Portfolium.
Sonoma State's rollout of Portfolium is part of a larger 3 year agreement that Portfolium has reached with the California State University System - an agreement that extends ePortfolios to all 23 CSU campuses, 475,000 students, and 3.2 million alumni.
About Portfolium
Portfolium partners with colleges & universities to help students transform learning into opportunity. Our ePortfolio network helps 5M+ students from over 150 partner institutions manage their skills and launch their careers. Portfolium's cloud-based platform empowers students with lifelong opportunities to capture, curate, and convert skills into job offers, while giving learning institutions and employers the tools they need to assess competencies and recruit talent.
About Sonoma State University
Located in California's premier wine country 1 hour north of San Francisco, Sonoma State is a small campus with big ideas.With a tradition of promoting intellectual and personal growth, leadership opportunities and technological proficiency, SSU offers its students a friendly, safe and informal atmosphere on a beautiful campus setting.
SSU has a commitment to graduating students who have the ability to think critically and ethically and can effectively use information technology. There is a strong move to develop a global perspective in much of the curriculum to prepare students for the needs of the 21st century workplace.