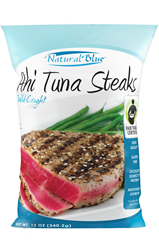 "The Fair Trade program provides fishermen a premium price for their catch and is used to invest in projects that improve the living and working standards in the community,"
Tampa, Florida (PRWEB) March 04, 2016
One year after achieving the first-ever Fair Trade certification for capture fisheries, handline yellowfin tuna fishermen of the Maluku Islands in Eastern Indonesia successfully completed their first annual audit validating compliance with the initial certification and meeting new additional requirements. These additional criteria include a Fair Trade Premium Plan tailored to each Fair Trade community that meets the needs of the fishers and their community, and establishment of a sustainable fishery management plan. This fishing community has been the source of the Natural Blue® Ahi Tuna Steaks sold in Safeway and supplied exclusively by Anova®.
Based on the success of the initial certification site, two additional locations were added to the Fair Trade program in 2015. Seram Island in the Eastern Maluku Islands and Toli-Toli in North Sulawesi successfully met initial program requirements, adding over 400 fishermen and 23 fishermen associations to the Fair Trade program. With these new additions, the Indonesian handline tuna program now includes over 500 fishermen and 27 fishermen associations. New fishermen joining the program means that Fair Trade tuna products will be more widely available in the United States.
"The Fair Trade program provides fishermen a premium price for their catch and is used to invest in projects that improve the living and working standards in the community," notes Helen Packer, coordinator of the Fishing & Living® program, Anova's social and sustainability initiative. "To date, the Fair Trade premium earned by the fishermen has been used for public infrastructure renovation, beach clean-ups, first-aid kits and life jacket purchases. With fishermen reporting large and abundant numbers of tunas at the onset of the fishing season, another large premium is expected this year."
The Fair Trade program for the tuna handline fishery began its work in 2013 with the support of Anova, Fair Trade USA and Anova's partner NGO, Masyarakat Dan Perikanan Indonesia (MDPI). The program aims to achieve more resilient livelihoods in coastal communities, improved working and living conditions, increased supply and demand for responsibly sourced seafood, and enhanced environmental stewardship and ecosystem protection. The philosophy of the Fair Trade USA program for wild capture fisheries directly aligns with Anova and Fishing & Living's vision that sustainable fisheries go hand in hand with thriving fishing communities.
Anova will be working with Hy-Vee, currently the only US retailer that has made the commitment to source 100% of its frozen tuna line from Fair Trade sources. Hy-Vee will gradually be making the switch as Fair Trade product becomes increasingly available over the coming year.
###
About Anova Food, LLC:
Anova Food, LLC, a wholly owned subsidiary of Bumble Bee Foods, LLC, is the top sushi quality tuna company in America. It has become a leader in the global sourcing of wild caught and farm-raised finfish. The sustainability efforts of Anova, through its Fishing and Living® initiative, demonstrate its corporate core value commitment to socially and environmentally responsible efforts to ensure a healthy supply of fish for future generations.