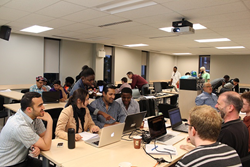 "Ottawa is one of the most beautiful and innovative cities in Canada with 1,700 companies – including hundreds of innovative start-ups,"
(PRWEB) March 04, 2016
Carleton University will start offering a new master's degree this Fall – the Master of Entrepreneurship (M.Ent.) in Technology Innovation Management (TIM). The new degree complements the two existing TIM degrees, the Master of Applied Science (M.A.Sc.) and the Master of Engineering (M.Eng.) degrees, also offered jointly by the Sprott School of Business and the Faculty of Engineering and Design. Currently, almost 100 experienced engineers, computer scientists and scientists are enrolled in the TIM program.
Jerry Tomberlin, Dean of the Sprott School of Business says "The M.Ent. degree will provide graduates with the specialized business and management knowledge and skills to enable them to play crucial roles in start-up ecosystems that support and drive growth of technology startups and, consequently, the economic growth in the Ottawa region, Canada and internationally."
"This new degree will give our students a competitive edge in the job market." Says Matthias Neufang, Dean of the Faculty of Gradaute and Post-Doctoral Affairs. "Like many of our other graduate programs, the TIM program is truly interdisciplinary, even cutting across two different faculties at Carleton which provides our students with a unique experience."
"Experience outside the classroom will include contributing to the initiatives of Lead To Win's pre-accelerator, accelerator, and post-accelerator, writing papers for the Technology Innovation Management Review, engaging in the activities of local technology companies and the companies that service them, and participating in the Capital Entrepreneurs program," said Michael Weiss, a TIM faculty member. Lead To Win is ranked by UBI Global as one of the top ten university business incubators in North America. Currently, it supports 167 venture teams at the pre-accelerator stage and 40 startups at the accelerator stage. More than 200 technology companies have been launched by Lead To Win. Each month, more than 27,000 unique visitors access the website of the TIM Review, a free monthly publication about theories, strategies, and tools that help technology companies succeed.
"Ottawa is one of the most beautiful and innovative cities in Canada with 1,700 companies – including hundreds of innovative start-ups," said Emily Byron, the TIM Administrator. "M.Ent. students will have many opportunities to benefit by interacting with these companies. Other benefits to students include the unique opportunities presented when completing assignments in a group setting. Experienced professionals learn how to leverage ecosystems for the purpose of creating and growing successful businesses."