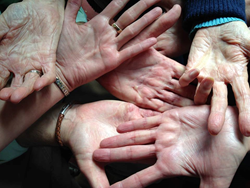 World Class physicians join with patients on a facebook forum for support, spirited discussion about new treatment options and to raise global awareness of Dupuytren's Disease - a genetic disease with no cure.
Naples, FL (PRWEB) March 08, 2016
A group of patients with Dupuytren's Disease recently launched a Facebook forum and website designed to raise awareness of this incurable, disabling and baffling condition. The Dupuytren's Disease Support Group (DDSG) is a closed Facebook forum providing peer group support and resources for these underserved patients. The grassroots campaign founded by Leslie Rosenthal of Naples Florida, is bringing together patients and doctors in an effort to raise awareness of Dupuytrens. In addition to member discussions, the forum holds "Coffee Talks" featuring expert physicians in live Q&A with patients on the forum newsfeed.
Dupuytren's Disease is a genetic condition characterized by nodules and cords in the palm which lead to permanent contracture of fingers as they bend into the palm. 10 Million Americans suffer from disease and even more worldwide. People over the age of 50 are most affected. Treatment options for Dupuytren's include radiation therapy for early stage disease, minimally invasive needle aponeurotomy, Xiaflex injections and more invasive surgery. Rosenthal, encouraged her Radiation Oncologist, Dr. Gopal Bajaj, Chief of Radiation Oncology at Inova Fairfax Hospital, in Fairfax, VA, to collaborate with his hand surgeon colleagues. Dr. Bajaj commented, "Leslie's tenacity gave me the impetus to serve as a resource for hand surgeons, to educate about how radiation therapy can help Dupuytren's patients, and how multidisciplinary collaboration will help us improve treatments."
The group is also engaging members and social media channels to help the Dupuytren Foundation enroll 10,000 participants in the IDDB (International Dupuytren Data Bank). Dr. Charles Eaton, executive director of the foundation, explains, "The IDDB is the first step to understand the molecular biology behind this systemic disease. After we uncover the root cause, we will be able to develop more effective treatments."
Sue Mills from Atlanta found DDSG after her Dupuytren's diagnosis. "The forum has helped me better understand the nature and progression of this terrible disease, as well as the treatment options. The mix of members with similar experiences and the doctors who participate has been invaluable." The interactions on the forum have led to an in-person support group in Atlanta. "It's been great to be able to share our experiences and build friendships. Most importantly, we are not alone in this battle," she added.
For more information, go to, http://www.dupuytrensdiseasesupportgroup.com
Contact:
Leslie Rosenthal
240.328.0848
Source: Dupuytren's Disease Support Group