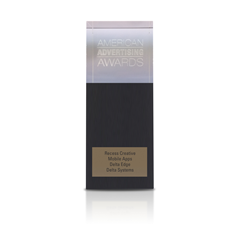 Streetsboro, OH (PRWEB) March 05, 2016
Delta Systems, Inc. today announced a gold-medal win at the Cleveland AAF ADDY Awards for the Delta Edge mobile app. The win was the result of a partnership with local full-service digital advertising and integrated marketing agency Recess Creative. The award, recognizing excellence in mobile application design, comes on the heels of the 2015 GIE Expo launch of the YardLink device with Edge app.
"We truly enjoyed collaborating with Delta, and to bring home this win makes it even more exciting," said Tim Zeller, managing partner and Chief Creative Officer of Recess Creative.
After the initial success of Cub Connect, an MTD app powered by Delta Blue TechnologyTM and designed by Recess Creative, Delta and Recess rejoined to design the Edge app. The idea—putting the brains behind the brawn—produced a sleek, user-friendly technology, poised to transform the ecosphere of outdoor power equipment.
The groundbreaking Edge technology pairs with YardLinkTM devices, which, when attached to power equipment, utilizes motion-sensing hardware to track data. The device syncs with the app, and voila—the control of your fleet maintenance is at your fingertips.
To ensure seamless information tracking, Recess designed an interactive application that stores such data as battery percentage, air filter quality, and overall equipment usage. This brand-new intuitive component connects business owners with the minds of their machines, allowing them to better budget for maintenance and increasing the longevity of their fleet.
Together, YardLink and the Edge App create an enhanced user experience for business owners and manufacturers alike. The app, easily installed on any smart device, serves as an evolving, portable snapshot of business productivity and efficiency.
"Integrating our Delta Blue Technology with our products and paired with an app, and to have it recognized at the ADDY Awards is the results of innovation and creativity at its best," said Michelle Specht, Product Marketing Manager at Delta Systems.
To learn more about Delta Systems' YardLink with Edge App, visit http://www.deltasystemsinc.com/innovations/the-yardlink-with-edge-app.
Delta Systems, Inc.
1734 Frost Road, Streetsboro, OH 44241
(330) 626-2811
http://www.deltasystemsinc.com
Delta Systems is a designer and manufacturer of switches, displays and electronic controls. We have been partnering with our customers to provide innovative solutions to the Outdoor Power Equipment industry for more than 40 years. We take pride in our ability to listen to the customer and understand their needs. We then serve their needs with a quality product. Our quality mindset begins in design, continues through testing and customer approval, flowing seamlessly into production and evolves even post delivery.
Recess Creative
635 West Lakeside, Suite 101, Cleveland, OH 44113
(216) 400-7187
http://www.recesscreative.com
Recess Creative was co-founded by Chris Jungjohann and Tim Zeller in 2009. Recess is a full-service digital advertising agency located in the warehouse district of downtown Cleveland. Our services include advertising, marketing strategy, design, website design, mobile solutions, broadcast and radio. We are persuaders and visionaries, designers and developers with the skill, experience and passion to take your message and make it come to life.