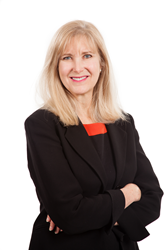 Lise Newman takes the time to listen carefully and then proceeds to make sure each client's workplace environment is designed to fully support their business goals.
Detroit, Mich. (PRWEB) March 04, 2016
Corporate workplace facility and business strategy expert Lise Newman, AIA, has been promoted to Workplace Practice leader at SmithGroupJJR, one of the nation's largest architecture, engineering, interiors and planning firms. She was previously director of the firm's Workplace Studio at its Detroit office.
As leader of SmithGroupJJR's Workplace Practice, Newman heads the firm's planning and design work for corporate headquarters, campus development, workplace interiors, speculative office buildings, hospitality, retail and multi-family/high-rise residential buildings for both public and private sector clients. In her new role, Newman is focusing on expanding the practice's portfolio of major headquarter buildings, large-scale corporate campuses, and workplace strategy projects.
Newman is recognized for her success in guiding organizations through an in-depth discovery process that results in new and innovative workplaces that are truly aligned with the organization's business goals.
"Lise Newman is devoted to understanding the business strategy of her corporate clients," said Mike Medici, AIA, president and managing partner, SmithGroupJJR. "She takes the time to listen carefully and then proceeds to make sure each client's workplace environment is designed to fully support their business goals."
Among Newman's most notable projects is the new, 100,000-square-foot headquarters for Lake Trust Credit Union, Brighton, Michigan, opened in fall 2015 featuring a highly innovative, "un-bank" design. Newman is currently heading workplace design projects for Google in multiple locations across the U.S.; a new 320,000-square-foot headquarters for Ally Financial, Detroit; as well as an expansive workplace strategy project spanning over five-million-square feet for a global manufacturing company. Other recent clients include Plante Moran for workplace standards and office renovations at multiple locations including Riverside Plaza in Chicago; and the new 225,000-square-foot headquarters building rising in Oak Brook, Illinois for the Duchossois Group/Chamberlain Group, slated for completion in late 2016.
Newman conducts the SmithGroupJJR Workplace Advisory Board, a forum comprised of corporate and institutional real estate executives, workplace strategy leaders, facility directors and human resource professionals. The group convenes annually to share insights into emerging trends, and challenges and opportunities related to creating and maintaining today's sophisticated workplace environments. Read its latest roundtable summary, "The Rise of Human Capital and Engagement."
Elected to the SmithGroupJJR Board of Directors in 2015, Newman has over 30 years of experience and is known for her mastery in building consensus. She joined the firm's Detroit office in 2013 after serving as owner and principal-in-charge of her own workplace-design focused firm, Landry + Newman Architecture, located in Birmingham, MI.
Newman is a licensed architect in Michigan and California. She graduated as class valedictorian from the University of Texas at Austin, where she earned a Bachelor of Architecture degree. This was preceded by an undergraduate study in business administration from Trinity University, San Antonio. Among her professional affiliations are the American Institute of Architects (AIA) Michigan and Detroit chapters, Commercial Real Estate Women (CREW) Detroit chapter, CoreNet, and the Urban Land Institute.
She is a resident of Birmingham, Michigan.
SmithGroupJJR (http://www.smithgroupjjr.com) is a recognized integrated architecture and engineering firm ranked Top 10 in the U.S. SmithGroupJJR's Workplace Practice is its second largest practice area, having completed the planning and design of more than 25 million-square-feet of corporate, government, institutional and private development projects related to workplace environments and urban development. A national leader in sustainable design, SmithGroupJJR has 360 LEED professionals and 129 LEED certified projects.