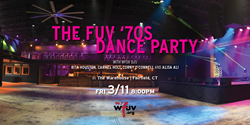 Fairfield, CT (PRWEB) March 04, 2016
Fordham University's non-commercial radio station, WFUV 90.7FM, celebrates their annual dance party on Friday, March 11 in The Warehouse at Fairfield Theatre Company (FTC). This year, they're going retro.
The NPR affiliate has been taking the airwaves since 1969, presenting music and news to more than 350,000 listeners weekly in the New York area, along with thousands more on the Internet.
WFUV and FTC invite listeners and supporters to hit the dance floor from 8 p.m. to midnight in The Warehouse. Funky music will be provided courtesy of WFUV DJs Rita Houston, Carmel Holt, Corny O'Connell, and Alisa Ali; all of whom host weekly and daily shows on the radio station.
The first drink is on the house and all attendees will have the opportunity to enter to win a pair of tickets to the sold-out Adele concert at Madison Square Garden in September, along with many other prizes.
From New York City to Southwestern Connecticut, both WFUV and FTC welcome supporters to dust off their bellbottoms and go back in time on Friday, March 11 in The Warehouse at FTC.
Ticket sales support WFUV 90.7FM radio. Visit http://www.fairfieldtheatre.org for more information and ticketing information.
About WFUV
WFUV (90.7 FM, wfuv.org), New York's source for music discovery, is a non-commercial, member-supported public media service of Fordham University for more than 65 years. WFUV has received national recognition for its award-winning weekday format of adult album alternative music, award-winning local news and sports, and a diverse weekend lineup. WFUV's robust website has extensive audio archives, videos, song playlists, an events calendar, blog and other resources.
About Fairfield Theatre Company:
The Fairfield Theatre Company is a nonprofit organization dedicated to a simple premise - that the broadest spectrum of live entertainment and cultural exchange is essential to the vitality of our society. We believe that our quality of life depends on opportunities to get out, and come together in public places to enjoy live music, art, theatre, film, all manners of creative and intellectual discourse, and to participate in these activities to the fullest. From our first season of plays in 2001 on the Fairfield University campus, to the opening of our StageOne venue in downtown Fairfield in 2004, The Warehouse in 2015, to a string of highly-acclaimed performances presented at The Klein Auditorium in Bridgeport and the Norwalk Concert Hall, FTC has evolved into the region's most energetic and productive performing arts organization.