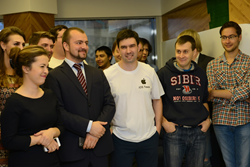 How we develop our software and apps all depends on what the customer needs them to do.
London, UK (PRWEB UK) 10 March 2016
Software experts and app developers for the business sector Magora this week announced they were expanding their UK office by moving to The Tea Building in London's Shoreditch.The company specialises in providing bespoke IT solutions for a wide range of companies involved in international freight, transport, tourism.
Over the past five years this has included giving start-ups the IT boost required to get their business running, as well as developing more tailored and sophisticated software for large conglomerates such as the Eastern Australia Railway Network or Austria Sity Apps. In the case of the latter one of the company's tasks was to develop a software system capable of handling huge amounts of data on a daily basis for safety routine railway work.
"How we develop our software and apps all depends on what the customer needs them to do at the time," said Magora Director Andrew Lobel.
"For instance, that client may be looking for software which can help to boost sales, or they may be looking to break into a new market completely.
"They could be looking for new software or want to upgrade what they already have and feel comfortable with. We treat each client as an individual and tailor the solution for them, rather than give them a standardised service which would just cause more problems in the end anyhow."
Solutions that Magora can help logistics companies with include:

Providing an adaptive planning solution where software can show drivers the quickest route to take based on real-time traffic analysis and even historical data such as traditionally traffic-heavy days.
Producing an app which connects carriers directly to truckloads via an online platform. This cuts out the need to use a broker (which can cost 20 per cent in commission).
Automatic email updates to customers (ie regards any changes to the originally scheduled delivery time)
Since their formation in 2010 Magora has delivered more than 500 projects involving 220 companies in 25 countries around the world. This has included a UK car manufacturer keen to have an app which would allow them to closely monitor the volatile cost of oil and therefore the retail price of their cars. It saved the company 220K GBP a year.
A UK-based start-up courier company needed an online portal where customers could post jobs for couriers (who were using both iOS and Android apps) and which would allow the client to track their parcel's status.
An e-signature allows the recipient to confirm they've received the delivery.
"We spend the lion's share of our time in discussions with our customers to allow us to discern their real and actual needs," said Lobel. "We always consider the value to the business first, and only then the architecture of the program. This approach, I believe, is the secret to our success – and why our clients are always so delighted."
Magora boasts an expert staff of more than 100 software developers, business consultants and projects architects on an international basis and have achieved bespoke solutions for companies around the globe.
About Magora
The company was started by two developers who, within the past decade, have grown to the extent they now have three offices – one in London and two internationally.Magora develops web and mobile apps for both IOS and Android smart phones and specialises in bespoke software development for the business sector.