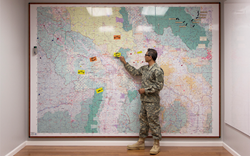 MagnaMaps® offer commanders a tactical advantage when planning and executing operations that simply cannot be replicated anywhere else.
Macedon, NY (PRWEB) March 04, 2016
Magnatag Visible Systems, a dry erase board manufacturer based out of Macedon, NY, has found that members of the US military rely on their MagnaMap® technology to help plan and coordinate training and operational measures at their local base.
MagnaMaps® In Action
Transitioning troops from a training-centric force to a combat-centric force requires exceptional training and management. Top military commanders know that being able to work through hypothetical combat situations as a group can make the difference between life and death on the battlefield—and with the help of MagnaMaps—training officers can ensure troops are combat ready:
"We use our maps when training about tracking equipment and personnel. We have locations of each of our armories marked with the WakTacks® and a magnetized military vehicle icon showing the various vehicles and personnel in that particular armory. The military vehicle icons are marked in order to show if that specific vehicle is mission ready or not. This facilitates our mission planning in accordance to what we are expected to provide. As people and equipment move and respond, we have the capability to move those icons on the map in order to keep a current situation visible for commanders to view."
But MagnaMaps® aren't strictly utilized for training purposes; in fact, some boards are being used by members of the Air Force to help with routine operations at the local air station:
"Having the ability to quickly survey our area and gauge range, using the range rings, from our air station has been beneficial and reduced our time to get off the ground and go flying."
Christian Krapf, the President of Magnatag Visible Systems, attributes the growing popularity of MagnaMaps® in Us Military bases to the products design:
"Our military customers tell us the magnetic and dry erase properties of our MagnaMaps® allow them to visually communicate expectations with their troops, both in training and field operations. Giving your map a large-scale design allows you to highlight the most important aspects of your presentation, capturing the attention of everyone in the room. MagnaMaps® offer commanders a tactical advantage when planning and executing operations that simply cannot be replicated anywhere else."
About MagnaMaps®
"MagnaMaps are made-to-order. We have huge image libraries and certified cartographers on staff that help make us the go-to planning resource amongst members of the US Military. With our unique manufacturing capabilities, we can easily produce map systems that can cover a full wall while maintaining a high definition image." Krapf continued.
Magnatag's design and manufacturing team works side by side with military and civilian customers to create a product that is tailor-made to exact specifications. Solutions range from military base layouts and regional maps, to nautical charts and high definition aerial photography. For more information go to Magnatag.com/maps
About Magnatag Visible Systems: Magnatag® Visible Systems designs, manufactures and direct-markets over 2,300 magnetic printed whiteboard kits, calendar planners, maps, custom boards, WhiteWalls, RotoCube Bulletin Towers, magnets, whiteboard accessories and other information display systems for industry, hospitals, schools, business and government. Call a Visible Systems Specialist at 800-624-4154 or visit the website at http://www.magnatag.com.