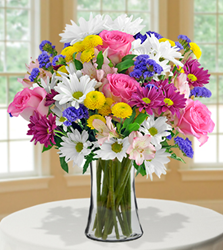 Haymarket, VA (PRWEB) March 08, 2016
Bid winter farewell, and spring an enthusiastic hello. The Bloomstoday.com's Spring Flower Collection for 2016 has been released. The professionals at bloomstoday.com are releasing the Spring Collection, understanding well not only the sheer delight of both sending and receiving flowers, but also the underlying significance of incorporating trends, style and fashionable colors into its arrangements. Bold and beautiful comes in a stunning bouquet of tulips in sunny yellow, passionate purple, strawberry reds and a pinch of pink among luscious green stems and leaves. A lovely, more quiet arrangement blends beautiful roses, lilies and complementary floral accents reminiscent of beach-y shades of coral, sun and sand.
One of the most often painted flowers in the world, the sunflower, is tucked among Shasta daisies and ocean blue irises whose yellow highlights match the petals of the sunflower. Fashion is not relegated just to the textile industry, and art is not solely found on the painter's canvas. Floral composition involves design, texture, color, size, shape and style as well, and bloomstoday.com is excited to present this Spring Collection in its entirety. Shades of red from exotic cabernets and magentas to precious pinks and a splash of tangerine compose a brightly bejeweled presentation.
No longer satisfied with the standard issue, clear glass vase, bloomstoday.com raises the bar by delivering every one of the Spring Collection bouquets in a designer-style, keepsake vase in the size, shape and color to perfectly balance the floral display. And rounding out its first seasonal release in 2016 is a beautiful assortment of hues of blue, shades of lavender and spots of warm whites and greenery, all assembled in a lace-like blue container.
The floral experts at bloomstoday.com are skilled in assisting customers with choices and the handwritten card which accompanies every arrangement. Careful delivery is assured as the flowers make their way to make someone's day and welcome Spring in a big way. Customer service is the hallmark of their success, along with the very best in fragrant, long-lasting flowers ... this Spring. Bloomstoday.com. 1-800-359-5309. All orders are backed by a 100% guarantee. Visit http://www.bloomstoday.com for more information.
For the latest updates and news, "Like" Blooms Today's™ Facebook fan page, http://www.facebook.com/yourbloomstoday, or follow us on Twitter, http://twitter.com/BloomsToday.
About Blooms Today
Blooms Today™ has taken the local flower shop feel and deep understanding of customer needs to a nationwide floral delivery service provider level. With a deep commitment to exceeding customers' expectation for quality, value and extraordinary service, Blooms Today has served millions of customers nationwide for more than 15 years. From a small local floral business with roots that stem back to the early 1920s, co-founders George Dukas and Don Mayer in 2000 have built a family business that is known as Blooms Today.
Blooms Today™ offers a wide variety of Elegant Flowers, Plants and Centerpieces and is the one-stop shop for all floral needs. Orders are delivered by local preferred florists through partnerships with the top three floral networks, FTD, a relationship in place since the 1930's, 1-800-Flowers, and Teleflora or handpicked from select farms in South America, Holland and California. Blooms Today™ continues with a promise to provide excellent customer service and superior quality to every customer. Blooms Today™ prides itself in the ability to provide expedited service to customers and offers a 100% money back guarantee on all products. Through its online store and website, Blooms Today™ offers an affordable "best-of-class" experience to bring joy to the lives of loved ones. Creating Smiles Across America!