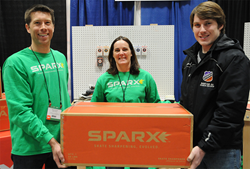 "The Sparx Sharpener is game-changing, because it puts the players in control of their own sharpening."
ACTON, Mass. (PRWEB) March 08, 2016
Sparx Hockey, designers of an in-home automated skate sharpener offering pro quality results, delivered their initial commercial product to two of their first Kickstarter backers at the Let's Play Hockey Expo in St. Paul, Minnesota. Both backers are from Minnesota, arguably, the most hockey obsessed region in the country.
"Until now there hasn't been a safe and easy way to get professional quality sharpening results at home," explained Russell Layton, founder of Sparx Hockey. "By bringing our in-home sharpener to market, we are revolutionizing the sport of hockey."
Repeatedly frustrated with the skate sharpening experience at local hockey shops, engineer and entrepreneur Layton designed an easier and more convenient skate sharpening solution.
"Trekking a half-hour to my local shop, only to find a long line or an inexperienced person sharpening skates was aggravating and took some of the joy out of the sport" explained Layton. "Plus, I was always hesitant to let my son skate on the pond or artificial ice because I knew I wouldn't have time to get his skates sharpened before his next game. "The Sparx Sharpener is game-changing, because it puts the players in control of their own sharpening."
Dull Skates No More
Providing a consistent and accurate sharpening every time, the Sparx Sharpener uses advanced technology to ensure that every sharpening meets the highest standards of quality. The system requires no skill from the user, and skates can be sharpened in a simple three-step process: load the skate; press the play button; and deburr afterwards.
At the heart of the system is the Sparx Radius Ring™ grinding wheel creating the profile on the blade of the skate. Players choose from 12 different Radius Ring profiles to precisely match their playing style, ability, and ice conditions. Each Radius Ring contains a microchip to monitor the abrasive life and alert the user of when it needs to be replaced.
"We've been fortunate enough to work with some of the most discerning skaters in the world throughout our development process, from collegiate to Olympian to NHL players, and we're confident that Sparx is going to change the game of hockey," said Layton.
Other features unique to the Sparx system include: an integrated air filtration system to eliminate dust; built-in safety shields; a simplified and patented alignment system; an auto-centering clamp for effortless changing between player, goalie, and figure skates; easy spare-blade compatibility; and visibility of the entire sharpening process.
"If you don't have confidence in your edges, you can't play your best hockey," said 1998 U.S. Olympic Women's Ice Hockey Gold Medalist and Sparx Hockey Marketing Manager Colleen Coyne. "With the Sparx Sharpener, you can skate at top speed with confidence, every time you get on the ice."
Currently, the company is delivering to their Kickstarter backers through May 2016 and will then deliver pre-orders starting in June. A regular delivery schedule is expected to begin in July. Visit http://www.sparxhockey.com for more information.