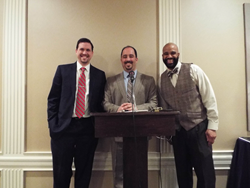 "What a wonderful, caring organization. It is very easy to see how much the leadership, faculty and staff truly care about each individual student. It was such an honor to be part of their commencement."
Monroeville, PA (PRWEB) March 15, 2016
Triangle Tech of Pittsburgh celebrated its graduating class in a commencement ceremony held at the Chadwick, in Wexford, PA. The Ceremony was extremely well attended by 36 graduates as well as family, friends and faculty, bringing the total attendance to over 200 guests.
The event started at 6:30pm and included a wonderful buffet dinner, speeches by directors and faculty, awards, and a commencement speech by Christopher Wagner, President of Arbors Management, Inc. The evening concluded with the diploma ceremony.
Mr. Wagner congratulated the graduates on their achievements and spoke on trades and employment throughout history and today. He drew upon his vast experience in the Property Management Industry and gave some advice to the graduates about entering the workplace.
"What a wonderful, caring organization. It is very easy to see how much the leadership, faculty and staff truly care about each individual student. It was such an honor to be part of their commencement." stated Mr. Wagner when asked about the event.
Arbors Management, and its subsidiary, Finish Line Maintenance, see the value in graduates from Triangle Tech and have recruited them for positions within their respective companies.