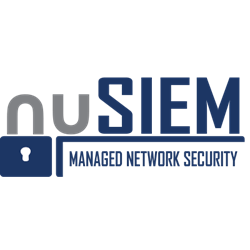 nuSIEM is the first solution to provide this level of scalability and visibility to enterprise customers
Commerce, MI (PRWEB) March 08, 2016
Nuspire Networks, a global leading managed security service provider, announced today groundbreaking enhancements to their Security Information Event Management (SIEM) technology. With this breakthrough, Nuspire will change the security technology landscape by offering a managed solution for enterprises that is cloud-based and driven by big data analytics. The results of these R&D efforts will allow enterprises to monitor their network security in near real-time without the need for expansive infrastructure enhancements, custom software, or intrusive network infrastructure changes.
"Keeping enterprise businesses safe from online threats is a huge undertaking. The larger the business, the more devastating it is to its infrastructure and client base when its network is breached," said Justin Heard, Security Analytics Member at Nuspire Networks. "This is due to the evolution of malware technology and the rising integration of the Internet into every facet of business frameworks."
SIEM is vital to an organization's defense because it keeps a pulse on the security environment and establishes a proactive approach to the detection of internal and external attacks on information assets and their associated infrastructure. However, this technology is not easily scaled or implemented for larger organizations because enterprises have massive amounts of data and varied network infrastructure. These challenges preclude most SIEM software solutions from being a viable option for many enterprise organizations.
"This problem can't be solved with off-the-shelf solutions because they don't scale easily and require complex configurations to aggregate and correlate large amounts of log data," said Matt Corney, CTO of Nuspire Networks. "In the end, they make finding, categorizing, and responding to security events an insurmountable task. Large organizations need to turn to a solution made for big data analytics."
Big data architecture is at the heart of Nuspire Network's nuSIEM 2.0. This SIEM solution utilizes real-time distributed computation, distributed parallel processing, and advanced machine-learning algorithms. nuSIEM 2.0 is deployed as a readily available, managed, cloud-based service – perfect for widely distributed enterprises.
The nuSIEM service is currently used by some of the largest and most distinctive companies, such as GM, Cardinal Health, CDK, and Subaru. "The capability to scale nuSIEM is virtually limitless and can be achieved quickly through scale-out architecture," said Corney. "Log data is replicated multiple times via the nuCloud storage systems which feature automatic failover and load balancing."
nuSIEM offers the ability to monitor a single or even thousands of UTM/firewalls and server events easily and via real-time dashboards and alerts driven by atypical usage patterns. Millions of reporting views are available via aggregated Dynamic Drill Down Reporting™, executive overview reports, and compliance reports. Hundreds of preconfigured alerts are available to choose from, including online status, system events, botnet traffic, and AI smart alerts identifying atypical usage patterns. "nuSIEM is the first solution to provide this level of scalability and visibility to enterprise customers," said Saylor Frase, CEO of Nuspire. "This is groundbreaking technology for enterprise customers. Large organizations finally have the ability to collect billions of events and view them as they happen. It is a major step forward in keeping enterprise businesses and customers safe from online threats."
For further information on Nuspire's nuSIEM, please visit http://www.nuspire.com
About Nuspire Networks:
Nuspire is a state-of-the-science, managed, network security service provider with nearly two decades of industry experience, providing network management, monitoring, and security services for some of the largest and most distinctive companies in the world.
Nuspire utilizes big data, cloud driven technologies, custom-built and integrated with unique threat intelligence, and human analytics to meet the managed security needs of enterprise organizations with geographically dispersed networks. Solutions are delivered with service level commitments for network security, performance, and compliance. Nuspire is the benchmark for managed security services and maintains unparalleled cybersecurity technologies deployed globally.