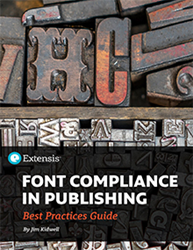 More than ever before, it's imperative that creative teams have the current and correct information about best practices in font management
Portland, Ore. (PRWEB) March 08, 2016
Today Extensis released a new Best Practices Guide for Font Compliance in Publishing. Available for download, the guide provides practical tips to help organizations identify if their font usage is creating vulnerability, the implications, and what steps can be taken to safeguard from costly mishaps.
Why Font Compliance Matters
Fonts are a critical element of every publishing workflow—improperly licensed fonts can quickly derail any creative project. But many creative professionals are still unaware that fonts are licensed just like any piece of software and covered by various laws like intellectual property, trademarks, and copyrights. More than ever before, it's imperative that creative teams have the current and correct information about best practices in font management.
Extensis surveyed a wide variety of industry leaders, discovered the most common issues with staying in compliance, and outlined best practices for mitigating risk.
Want to safeguard your organization? Get the Font Compliance in Publishing Best Practices Guide here.
About Extensis
Celebrating more than two decades in business, Extensis® is a leading developer of soft-ware and services for creative professionals and workgroups. Their solutions streamline workflows, securely manage digital assets and fonts, and control corporate typographic branding. Used by hundreds of Fortune 5000 companies, Extensis' award-winning server and desktop products include: Extensis Portfolio™ for digital asset management, Universal Type Server® for server-based font management, and Suitcase Fusion® for single-user font management. Founded in 1993, Extensis is based in Portland, Oregon, and the United King-dom. For additional information, visit http://www.extensis.com
© Celartem, Inc. d.b.a. Extensis All rights reserved. Extensis and the Extensis logo mark, Suitcase Fusion, Fontspiration, Portfolio, Portfolio NetPublish, Portfolio Flow and Universal Type Server are trademarks or registered trademarks of Extensis in the United States of America, Canada, the Euro-pean Union and/or other countries. This list of trademarks is not exhaustive. Other trademarks, reg-istered trademarks, product names, company names, brands and service names mentioned herein are property of Extensis or other respective owners.
.