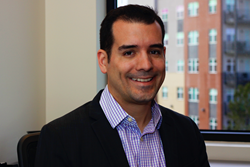 Justin is a very insightful and thoughtful professional that has an impressive track record of leading complex projects and delivering successful outcomes for clients
Englewood, CO (PRWEB) March 08, 2016
Lewis Fowler is pleased to announce Justin Rowe, PMI-ACP, PMP, as the new Practice Director. Justin comes to Lewis Fowler from InteliSecure where he spent the past two years as a Program Manager and Managed Services Team Leader, where he focused on critical asset protection programs and project management execution as well as developed new strategies that improved operational efficiencies in managed services client onboarding.
Prior to InteliSecure, Justin served as a Mobile Application Developer at Soliton Design Lab, Senior Consultant with Booz Allen Hamilton, and US Air Force Officer where he still is an active reservist. Justin received a bachelor's degree in Journalism and Mass Communication from University of New Mexico and has his master's degree in Management and Leadership at Webster University.
"The addition of Justin Rowe to our team is big news for both Lewis Fowler and our clients" said Amy Fowler, Managing Partner. "Justin is a very insightful and thoughtful professional that has an impressive track record of leading complex projects and delivering successful outcomes for clients."
As Practice Director, Justin will be accountable for all aspects of practice development tied to Lewis Fowler's core capabilities of business transformation, organizational effectiveness, technology enablement, and project capable organization creation. Under Justin's direction, Lewis Fowler solidifies its capabilities to ensure consistent and outstanding project engagement delivery.
About Lewis Fowler
A trusted partner for Fortune 500 companies, Lewis Fowler has an established track record of delivering innovative solutions that help realize corporate strategies. Founded in 2002 and headquartered in Englewood, Lewis Fowler is a management consulting firm that provides best in class program and project execution for enterprise level companies. Lewis Fowler's expert team aligns people, process, and technology to implement strategy and build sustainable value for their clients. Learn more about Lewis Fowler at http://www.lewisfowler.com