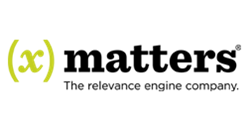 Transparency and an enhanced customer experience are at the heart of the deployment. LogiSense is helping us achieve this goal
Cambridge, ON (PRWEB) March 08, 2016
LogiSense Corporation, a leading global provider of usage rating, mediation and billing solutions to M2M/IoT, telecommunications, UCaaS and enterprise service providers, today announced it has completed the deployment of its award-winning EngageIP usage and rating platform for leading communications-enabled business processes provider xMatters, Inc.
EngageIP was selected due to its unique capability to facilitate usage rating for xMatters' subscription offerings and provide timely, detailed information to its' customers regarding their usage via their customer portal.
"Transparency and an enhanced customer experience are at the heart of the deployment. xMatters is committed to broadening the usage visibility and value our customers receive in the interest of improving their overall self-service capabilities and options - LogiSense is helping us achieve this goal." - Laura Horvath, VP Corporate Operations,xMatters
"Regardless of the type of service providers deliver, the ability to scale in the rapidly growing Usage Economy requires the right back-office support platform. xMatters' selection of EngageIP is further proof the LogiSense platform is an optimal solution for this complex technology marketplace." - Flavio Gomes, CEO, LogiSense
LogiSense enables enterprises to power the Usage Economy: The dynamic convergence of subscription- and usage-based billing models, allowing service providers to monetize in real-time any triggered event in the connected world to gain significant competitive advantages. Today's usage economy is a highly complex environment with a matrixed ecosystem of consumers and providers generating transactions that require metering, measurement and monetization. EngageIP's real-time rating, charging, billing and customer care capabilities enable providers to monetize any subscription, over any medium and from any provider. The system transforms clients' business practices by empowering rapid turn up of new services, enabling innovation and new revenue streams thus ensuring longevity and relevance in a rapidly evolving market.
Join LogiSense in exploring the future of IoT at the 2016 Channel Partners Conference in Las Vegas. We will be joining thousands of industry innovators to discuss leveraging the power of the IoT to transform and move your business forward. Book your meeting today!
About LogiSense Corporation
LogiSense provides licensed and Software-as-a-Service (SaaS) usage rating, mediation and billing solutions for machine-to-machine (M2M), telecommunications, unified communications and enterprise service providers. LogiSense's carrier-grade solutions are built on its proprietary, real-time usage rating and billing platform, EngageIP. LogiSense designed EngageIP from the ground-up to be service, medium and provider agnostic, allowing it to grow with customers as they evolve their business operations and end user offerings. EngageIP provides the flexibility and scalability to address the service, billing and back-office realities facing today's rapidly-evolving communications service providers. Founded in 1998, LogiSense currently serves more than 40 customers in six countries.
More info: http://www.logisense.com | Twitter: @LogiSense | Linkedin: LogiSense on Linkedin
About xMatters, Inc.
xMatters' cloud-based communications solutions enable any business process or application to trigger two-way communications (push, voice, email, SMS, etc.) throughout the extended enterprise during time-sensitive events. With over a decade of experience in rapid communication, xMatters serves more than 1,000 leading global firms to ensure business operations run smoothly and effectively during incidents such as IT failures, product recalls, natural disasters, dynamic staffing, service outages, medical emergencies and supply-chain disruption. xMatters is headquartered in San Ramon, CA with additional offices in London and Sydney.
More info: http://www.xmatters.com | Twitter: @xmatters_inc | LinkedIn: xMatters on Linkedin