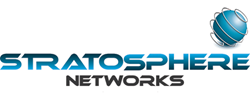 We're happy to have the chance to help small businesses become more productive by sharing our knowledge about technology.
Roseville, MN (PRWEB) March 08, 2016
Stratosphere Networks experts will give a presentation on March 17 explaining the many ways technology can help businesses boost productivity as part of the Saint Paul Area Chamber of Commerce Small Business Series.
The event will take place from 7:30 a.m. to 9 a.m. at the Radisson Hotel Roseville in Roseville, Minnesota. Jesse Miller, director of telephony infrastructure for the IT managed service provider Stratosphere Networks, and Sarah Hutton, regional sales manager for Stratosphere, will discuss how technologies such as mobile solutions, cloud computing, backup and disaster recovery solutions, video conferencing and unified communications can improve productivity.
The presentation will also cover the integration of different solutions for a streamlined workflow, remote working capabilities made possible by technology, and how automating tasks can help you accomplish more.
"We're happy to have the chance to help small businesses become more productive by sharing our knowledge about technology," Hutton said. "Our expert team at Stratosphere knows exactly how to leverage state-of-the-art technological solutions to give companies of all sizes the support and tools they need to operate efficiently and achieve success."
Stratosphere Networks focuses on delivering comprehensive technology solutions and services to meet and exceed the evolving business needs of its clients across the nation. Since its founding in 2003, the company has expanded exponentially and provides high-quality managed IT services and solutions to businesses in a wide range of industries.
The event – including networking, the presentation, and a hot breakfast – costs $20 for Chamber of Commerce members and $30 for non-members. Sponsors include UPS and Deluxe. Go here to get more information and register.
About Stratosphere Networks
Stratosphere Networks is a multifaceted IT managed service provider focused on delivering comprehensive technology services and solutions to meet and exceed the always-changing, diverse business needs. Since 2003, Stratosphere Networks has grown exponentially and continues to provide the best-in-class and cost-effective solutions to businesses in all industries. Visit http://www.stratospherenetworks.com for more information.
About The Saint Paul Area Chamber of Commerce
The Saint Paul Area Chamber of Commerce is a dynamic network of people and businesses that aims to create economic opportunity. The Chamber has helped its gain a competitive edge for more than 140 years and currently includes more than 1,200 Twin Cities companies of all sizes and representing all industries, in addition to government entities and non-profit organizations. For more information, visit http://www.saintpaulchamber.com.
For more information contact:
Lori Bernardino
847-440-8608
LoriB(at)stratospherenetworks(dot)com