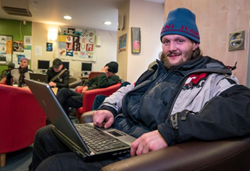 For people struggling with homelessness and addiction, it's a big struggle to access technology because of a lack of funds. I've struggled over the years to interact and integrate through technology....
London, England (PRWEB UK) 7 March 2016
Laptops for Homeless support initiative.
The initiative is the brainchild of SocialBox.biz, a social enterprise company specialising in innovative storage and ground-breaking social impact solutions for business, in partnership with the charity Thames Reach.
Camden Deputy Leader Patricia Callaghan attended the event to hand over the refurbished laptops, along with SocialBox.biz Chairman Peter Paduh, and Thames Reach Chief Executive Jeremy Swain.
"Thousands of disenfranchised members of society are cut out from the job market by having no access to computers or the Internet," said Peter Paduh, SocialBox.biz Chairman. "How can we expect the homeless to work past their situation when they have no ability to apply for jobs or learn new skills and trades? Our Laptops For Homeless Initiative was launched to provide the UK's homeless with a chance to rejoin society and step out of the shadows."
Camden Deputy Leader Councillor Patricia Callaghan said: "Too many people do not have a home that is decent, affordable and secure. Government benefit cuts and changes to the way charities are funded are causing sharp increases in homelessness and rough sleeping."
"Despite Camden's financial challenge and severe cuts to our funding from this Central Government, preventing homelessness continues to be a priority for Camden and we will continue to invest in these services.
It was a pleasure to hand over disused laptops on behalf of Camden to individuals registered with homelessness services, which will help them get 'online.' We are proud to be able to provide assistance to people who have experienced hardship and are dedicated to getting their lives back on track."
Peter Gibbs, client of Thames Reach Homelessness charity at their Camden Town Spectrum centre, said: "For people struggling with homelessness and addiction, it's a big struggle to access technology because of a lack of funds. I've struggled over the years to interact and integrate through technology. When projects like this are available for people like me, it's a big thing. Hopefully it will happen a lot more. I can only contact my family online through email right now, so this will help me rebuild those bridges. I really appreciate that."
Jeremy Swain, Chief Executive of Thames Reach, said: "These computers will give the homeless and marginalised people who receive them the opportunity to communicate with friends and relatives, develop new interests and improve access to advice to improve their skills and employment prospects."
The scheme aims to tackle homelessness via 'digital inclusion' – the access to computers and the Internet that many take for granted but from which homeless people will also benefit.
SocialBox.biz's Peter Paduh added, "It's about bettering our communities and societies by taking the laptops some deem as no longer needed and giving them to the people who need them the most."
SocialBox.biz recently launched their Guide to ISO26000 Social Responsibility standard. The company is busy developing new ways to ensure all redundant corporate laptops are collected and used to the fullest of their abilities. A team of dedicated IT professionals with a passion for compassion, SocialBox.biz will continue to research methods for even greater corporate electronic collection, helping corporations and businesses across the UK improve their Social Corporate Responsibility while helping the homeless.
For more information on SocialBox.biz's initiative, or to view their digital cloud storage solutions for charities, businesses and security features and solutions, visit: https://www.socialbox.biz/
Ends
Notes to editors
SocialBox.biz prides itself on being the solution for corporate and community needs by providing a win-win-win solution where firms are reducing costs of storage. Moving some of their processes and data to the cloud, boosting their CSR, and having an overall positive impact on community and society through re-homing donations of used but still working laptops computers are all ways the cloud-based service makes business operations easier. Such items are needed by many organisations and individuals in the community and are also able to provide training and employment opportunities. Through SocialBox.biz, corporations can
arrange to have their old laptops other items donated to a cause of their choice, or a cause picked by SocialBox.biz on the company's behalf.
The systems of SocialBox.biz are developed around Lean and Six Sigma Methodology and SocialBox.biz re-interprets the Six Sigma waste reduction model as well.
SocialBox.biz recently launched its Guide to ISO26000 Social Responsibility standard. To receive a copy, visit https://www.socialbox.biz/?p=682
SocialBox.biz provides all of its digital storage services through the Cloud and is consistent with ISO 27001 for data security. For more information on SocialBox.biz, visit: https://www.socialbox.biz
SocialBox.biz is the trading name of SocialBox.biz Trading Enterprises Limited.
For more information, please contact:
Peter Paduh or Simon Paul on 0843 289 5722
View our website at: http://www.socialbox.biz
Thames Reach is one of the UK's leading homelessness charities. Its vision is to end street homelessness and its mission is to provide decent homes, encourage supportive relationships and help people lead fulfilling lives.
Thames Reach runs a range of services in London including street outreach services helping people sleeping rough escape homelessness, a variety of hostels and supported housing projects, and schemes which prevent homelessness and help people develop new skills, re-engage with family and friends, and get back into work.
Thames Reach works closely with local communities to ensure that it contributes to improving neighbourhoods and meeting local needs.
It runs the Spectrum Centre in Camden which is dedicated to helping Camden's homeless people.
See http://www.thamesreach.org.uk
For further details, contact Thames Reach communications manager, Mike Nicholas, on 0203 664 9562