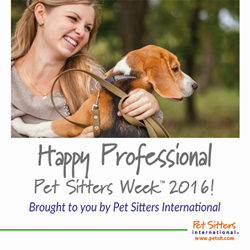 "Professional pet sitters maintain insurance and bonding, provide proof of a clear criminal history and take advantage of continuing education to ensure they can offer the best possible care to clients' pets." Patti Moran, President of PSI
Dallas, Texas (PRWEB) March 06, 2016
Park Cities Pet Sitter encourages pet owners and pet lovers alike to celebrate the 22nd annual Professional Pet Sitters Week, March 6th-12th, 2016. Professional Pet Sitters Week™ was introduced by industry association, Pet Sitters International (PSI) in 1995.
This international week of recognition seeks to educate pet owners about the advantages of using professional pet sitters and dog walkers, as well as to encourage the public to explore professional pet sitting as a viable and rewarding long-term career opportunity.
This year PSI member business Park Cities Pet Sitter is commemorating Professional Pet Sitters Week by highlighting the great work their staff does on a daily basis, and by injecting a fun contest into their work week. In addition to informing their clients that it is Professional Pet Sitters Week, Park Cities Pet Sitter is running a week-long "selfie" contest for their staff, where their sitters are encouraged to take "selfies" of themselves with their clients' pets as they go throughout their day. The photos will be posted to the Park Cities Pet Sitter Facebook page, and followers can "Like" their favorite photos. The three most-liked photos by the end of the week will receive cash prizes for the staff member.
"Park Cities Pet Sitter is committed to providing the best quality service to our pet-owning clients and is excited to celebrate this week that recognizes the pet-sitting industry on a global scale," says Joette White, President of Park Cities Pet Sitter. "We want local pet owners to understand the importance of selecting professional pet sitters for their pet-care needs versus hiring an individual to take care of a pet, as there are many differences that the average pet owner does not think about. Professional Pet Sitters Week really helps to highlight the industry overall, and sheds a spotlight on the great work professional pet sitters are doing across the country every day."
With pet ownership at a record high, the need for pet-care services is greater than ever before. "The pet-sitting industry has grown significantly over the past few decades. With the growth of the industry, it's important for pet owners to seek out the services of professional pet sitters," said Patti Moran, president of PSI. "Professional pet sitters maintain insurance and bonding, provide proof of a clear criminal history and take advantage of continuing education to ensure they can offer the best possible care to clients' pets. These professional business owners and their staff sitters truly deserve recognition for the optimal pet care and tireless efforts they provide year-round," added Moran.
For pet owners, at-home pet sitting provides a unique alternative to boarding facilities or having to rely on family and neighbors to care for their pets. Pet sitting goes beyond simply feeding and checking on pets. Park Cities Pet Sitter's professional pet-sitting services include dog walking, care of special needs pets, overnight services, and pet transportation services, in addition to basic pet and home care.
To learn more about the advantages of hiring a professional pet sitter visit http://www.pcpsi.com/about-us/.
####
Park Cities Pet Sitter, Inc. has served the Dallas area 7 days a week, 365 days a year since 1992. Pet sitting, daily dog walks, pet taxis, overnight sitting, pet supply shopping, litter box cleaning and dog training are all part of the services PCPSI offers. Park Cities Pet Sitter is bonded and insured, and all sitters are employees--not independent contractors. A manager is on-call 24 hours a day to handle any emergencies. Additional information about Park Cities Pet Sitter can be found on their website at http://www.pcpsi.com.
PSI is the world's largest educational association for professional pet sitters. Since 1994 PSI's membership has grown to nearly 7,000 independent professional pet-sitting businesses that service more than 740,000 pet-owning households each year. For further information concerning the professional pet-sitting industry, please visit Pet Sitters International at http://www.petsit.com or contact Beth Stultz at bethstultz(at)petsit.com.