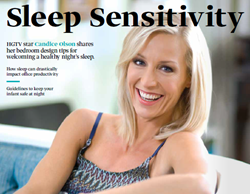 (PRWEB) March 07, 2016
Mediaplanet is collaborating with Candice Olson, Dr. Michael Breus, Owlet Baby Care, the creator of the Owlet Monitor. The Owlet Monitor is the only baby monitor to use hospital technology, pulse oximetry, designed to alert you if your baby's heart rate and oxygen fall outside of normal range.
The print component of "Sleep Sensitivity" is distributed within Monday's edition of USA Today, with a circulation of approximately 250,000 copies and an estimated readership of 750,000. The digital component is distributed nationally, through a vast social media strategy and across a network of top news sites and partner outlets. To export the digital version of the campaign, click here.
Popular interior designer and HGTV star, Candice Olson graces the cover of the print publication. In an exclusive interview, she discusses her top tips to design the ideal bedroom that is conducive to the best possible night's sleep. Olson says, "Design choices made about color and pattern or even the most elaborate lighting schemes take a back seat when night falls and the senses are simultaneously simplified and amplified."
About Owlet Baby Care
Owlet Baby Care was founded in 2013 by a team of passionate parents who wanted to bring themselves and other parents around the globe peace of mind and assurance by developing a monitor that tracks a baby's breathing and heart rate. Using pulse oximetry, the same technology used in hospitals, the Owlet Smart Sock is designed to send alerts if a baby were to stop breathing while sleeping. Owlet has analyzed more than 15 billion heart beats, creating the largest set of infant health data to ever exist. Owlet advocates for baby sleep safety, promoting the "ABCs of safe sleep" for babies: alone, on my back, in my crib.
"At Owlet, safe sleep for the littlest ones in our lives is a top priority," says Chris Stroud, vice president at Owlet. "We're excited to participate in this campaign to help spread the word about safe sleep and educate parents and caregivers about this important topic."
For more information on the Owlet Baby Monitor, visit http://www.owletcare.com
About Mediaplanet
Mediaplanet is the leading independent publisher of content-marketing campaigns covering a variety of topics and industries. We turn consumer interest into action by providing readers with motivational editorial, pairing it with relevant advertisers, and distributing it within top newspapers and online platforms around the world.
Press Contact:
Rachel Bernstein
rachel.bernstein(at)mediaplanet(dot)com
646-755-7949