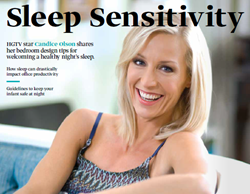 (PRWEB) March 07, 2016
The print component of "Sleep Sensitivity" is distributed within Monday's edition of USA Today, with a circulation of approximately 250,000 copies and an estimated readership of 750,000. The digital component is distributed nationally, through a vast social media strategy, and across a network of top news sites and partner outlets. To export the digital version of the campaign, click here
With 62 percent of Americans experiencing a sleep issue multiple times a week, it is more important than ever that we bring this call to action to the nation and challenge readers to implement healthy sleep practices. This campaign aims to educate Americans across the country on why getting sufficient sleep is not a luxury; it's a necessity and should be thought of as vital to ensuring proper health.
This campaign was made possible with the support of Dr. Michael Breus, better known as The Sleep Doctor™, the nation's most trusted authority on sleep.
About Dr. Breus
Michael J. Breus, Ph.D., is a clinical psychologist and has been treating sleep disorders his entire 16-year career, including on "The Doctor Oz Show," where he is on the clinical advisory board. He also treats sleep disorders through his interviews, books, blogs, mobile apps, social media and in his clinic. As an editorial contributor to "Sleep Sensitivity," Dr. Breus shares his views on the relationship between work productivity and sleep, how to fight jetlag when traveling and how EPAP technology can be an effective method for treating sleep-disordered breathing. In his article on work productivity and sleep, Dr. Breus says, "abundant, healthy sleep boosts creativity and innovative thinking. Sleep enhances insight—the reorganizing of ideas and information that helps us see and understand things in new ways." Follow Dr. Breus on social media @thesleepdoctor and visit his website http://thesleepdoctor.com/ for more information.
About Mediaplanet
Mediaplanet is the leading independent publisher of content-marketing campaigns covering a variety of topics and industries. We turn consumer interest into action by providing readers with motivational editorial, pairing it with relevant advertisers and distributing it within top newspapers and online platforms around the world.
Press Contact:
Rachel Bernstein
rachel(dot)bernstein(at)mediaplanet(dot)com
646-755-7949