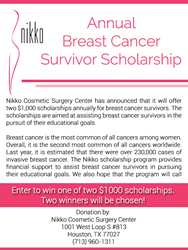 (PRWEB) March 09, 2016
Nikko Cosmetic Surgery Center in Houston and its founder, Dr. Anthony Nikko, have announced a new scholarship program. Each year two scholarships in the amount of $1,000 will be awarded to breast cancer survivors. The awards will help to defray the cost of tuition at the educational institution (junior college, college, university, trade school or secondary school) chosen by the successful applicants.
There are almost a quarter million cases of breast cancer diagnosed each year. The scholarship program is designed so that breast cancer survivors are better able to continue their education, and also to increase awareness of breast cancer and the importance of early detection.
Interested parties should visit the Center's website, where you can learn more about the program, as well as the online application process. Both current and former students are eligible to apply. The deadline for applications this year is September 30, 2016.
Questions concerning the scholarship program, eligibility requirements, and any other matters relating to the application process should be directed, via email, to:
Nikko Cosmetic Surgery Center
1001 West Loop S #813
Houston, TX 77027
(713) 960-1311
email michael(at)drnikko(dot)com