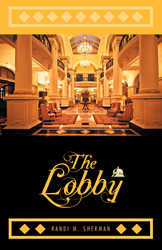 "...It was as if the reader was a video camera in the lobby and was able to see what every guest did. The Lobby was unlike anything that I have read before. I hope to read more of Sherman's work.
SAN FRANCISCO, CA (PRWEB) March 08, 2016
Reminiscent of Grand Hotel and Neil Simon's California Suite, THE LOBBY (Friesen Press; March 2016) by Randi M. Sherman, sheds a hilarious spotlight on the comings and goings of anonymous people who come to life in the lobby of the grand Shipley Hotel. Practically engineered for eavesdropping, San Francisco's juiciest hotel lobby offers the perfect place to witness the lives—and the most comedic intersections off staff, long-term residents, and eclectic guests.
"More than just a hotel, the Shipley is the "landmark choice of San Francisco hotels," says the narrator. "It is a microcosm of humanity where visitors gather, common people feel sophisticated, strangers pass as interesting, twelve dollars seems a fair price for a cup of coffee, and where our perky and attentive staff provides the gold standard in artificial concern and comfort."
Randi Sherman's spot-on character descriptions capture humanity in all its vain, self-absorbed, often romantic and sometimes loving preoccupations in 50 interlocking short stories as the narrator snoops into the lives of hotel workers and guests as they crisscross in the Shipley's elegant lobby during a single 24 hour period. Each consecutive chapter title is a time of day, beginning at 4:00 AM, when the hotel lobby comes to life.
Employing acute skills in human observation, Randi M. Sherman has written a must-read for anyone who has ever spent time in a hotel lobby people watching or just savoring the luxurious ambiance while the world floats. The next time you plan a trip, or a weekend excursion to your favorite city, pack a copy of THE LOBBY with you, and you will recognize every character in this witty, insightful novel as you gaze across your hotel's lobby, observing humanity in all its colorful shades and hues.
ABOUT RANDI M. SHERMAN
With an eye for detail, an ear for well-tuned dialogue and an incredible grasp of the obvious, all honed while performing stand-up comedy in Los Angeles and improvisational theater in San Francisco, Sherman adds just enough bawdiness to deliver a character-driven contemporary novel that will have the reader laughing and connecting with major and minor characters. THE LOBBY is Ms. Sherman's fourth novel. For more information, please visit http://www.randimshermanbooks.com
Randi is currently seeking agent and publishing partnerships, TV/fim options, international rights for THE LOBBY. Please contact info(at)randimshermanbooks.com
THE LOBBY is distributed by Ingram Press and is available through your favorite on-line book sellers: Amazon.com, BarnesandNoble.com, FriesenPress.com, iTunes, Nook, Kindles, Kobo and more...
E-Book ISBN: 978-1-4602-7812-3 $7.99
Paperback ISBN: 978-1-4602-7811-6 $15.49
Hardcover ISBN: 978-1-4602-7810-9 $31.99
RANDI'S UPCOMING EVENTS: Where's Randi