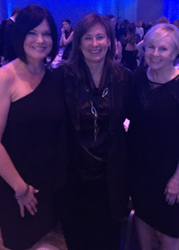 "We are so proud of Linda and her amazing results and awards for Paragon. We are truly honored to work with her on our team and be a part of the Leading Real Estate Companies of the World Network." - Anita Head, Founder and General Manager
San Francisco, California (PRWEB) March 07, 2016
Linda Parent and Paragon Real Estate Group were recognized for first place for the Pinnacle Award, and for 2015 Award of Excellence Equivalent Closing Sales Production throughout the network. "We are so proud of Linda and her amazing results and awards for Paragon. We are truly honored to work with her on our team and be a part of the Leading Real Estate Companies of the World Network." - Anita Head, Founder and General Manager
The conference was open exclusively to brokers, managers and relocation professionals affiliated with LeadingRE, a global community of real estate companies awarded membership based on rigorous standards for service and performance. Linda Parent took home two awards - The 2015 Pinnacle Award and 2015 Award of Excellence for Equivalent Closing Sales Production.
Paragon Real Estate Group is the San Francisco Bay Area representative of LeadingRE, the largest network of premier locally-branded firms in more than 50 countries producing over one million annual home sale transactions. As a member of LeadingRE, Paragon provides a quality real estate experience, global marketing reach and access to top real estate professionals in any market. For more information about Paragon Real Estate's global reach and affiliations, or relocation services, please contact Linda Parent at LParent(at)paragon-re(dot)com 415-738-7000.
About Paragon - Paragon is a locally owned and managed real estate company in the Bay Area that conducts business across all market segments – residential and luxury home sales, investment and commercial property sales and leasing, new home sales and rentals. We have built our success on preparing for and ensuring yours. http://www.paragon-re.com, 1400 Van Nes s, San Francisco, CA. 94109. 415-738-7000.