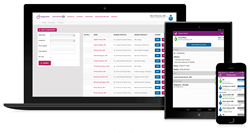 When a hospital takes on a secure communication platform it opens a whole new world of options for providing outreach and changing care models
Indianapolis, IN (PRWEB) March 08, 2016
Diagnotes, Inc., a leader in digital health communications, announced today that it has been selected to provide the secure mobile communication platform for the Indiana University Health system. Under the agreement, IU Health clinicians will be able to text care team members throughout the IU Health system via the Diagnotes platform.
Use of the Diagnotes platform adds a mobile communications technology that will facilitate choice of communications technology, offering clinicians a range of ways in which they can share information about a patient and his or her care needs in a trackable and HIPAA-compliant manner.
IU Health is Indiana's largest healthcare system, with 17 hospitals and more than 2,000 employed physicians and advanced practice providers.
"When a hospital system takes on a secure communication platform across its entire organization, it speeds the delivery of care and improves patient satisfaction. It also opens up a whole new world of options for providing outreach and changing care models, because physicians have a whole new way to securely interact with each other and patient care teams," said Dave Wortman, Chairman and CEO of Diagnotes.
About Diagnotes
With healthcare clients across the country, digital health leader Diagnotes, Inc. provides a HIPAA-compliant and trackable communication platform for patients, physicians and care teams. With Diagnotes, users can exchange messages, patient health information and photos securely from any location on any device, ensuring compliance and improving efficiency, collaboration and patient and provider satisfaction. For more information about Diagnotes, visit http://www.diagnotes.com.