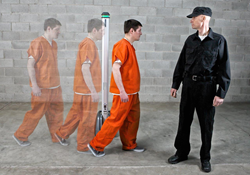 We routinely use CellsensePLUS as the primary tool in our arsenal to provide full-body searches of offenders and to screen mail, laundry, mattresses and inmate belongings
Lisle, IL (PRWEB) March 07, 2016
Metrasens, makers of CellsensePLUS has partnered with the Indiana Department of Correction for interdiction of cell phones, weapons and contraband. CellsensePLUS addresses offender use of cell phones to organize criminal activity from behind bars, including the intimidation of witnesses.
"As in most facilities, contraband had been an issue in our facility and it poses a threat to inmates and staff alike" noted James Basinger, the Deputy Commissioner Operations for Indiana Department of Correction. "We've rolled out Cellsense to our state facilities to seek out dangerous items that offenders may have concealed on or in their bodies or hidden among their belongings," he adds.
"Over the last eighteen months, Indiana Department of Correction has focused on the prevention of illicit inmate contraband, and we routinely use CellsensePLUS as the primary tool in our arsenal to provide full-body searches of offenders and to screen mail, laundry, mattresses and inmate belongings," he notes.
For the second straight year, Indiana Department of Correction has been selected as a key speaker on cell phone and contraband interdiction at the conference, Corrections Technology Association, held on May 15-18th in Scottsdale, Arizona. Basinger reports, "I will present the Indiana Department of Correction efforts to combat contraband, and will share metrics on the shift towards greater offender use of our facility inmate telephone system. Driving increased offender use of our phone systems is testament to our success in thwarting contraband cell phones."
"The Indiana Department of Correction are leaders in preventing offender contraband," notes Jim Viscardi, Vice President, Security Division for Metrasens. "We applaud their willingness to share this thought leadership with the industry, and are honored to be chosen as a partner in the fight to improve the safety of officers, inmates and the community."
About Metrasens
Metrasens, the makers of CellsensePlus, is the world leader in ferromagnetic detection systems used in the security and medical markets. With over 100 years of combined experience designing for the toughest military environments, including landmine and submarine detection, our scientific team has developed CellsensePLUS to be an integral tool for cell phone and contraband detection for correctional and police facilities, embassies, government and military locations and other international security applications. Metrasens makes people and places safer through innovative technologies, training and tactical insights from our deployments around the world. For more information, please visit http://www.metrasens.com/security
About The Indiana Department of Correction
As the largest agency in the State of Indiana, the Indiana Department of Correction employs more than 6,400 staff, supervises almost 10,000 parolees in communities across the state and is responsible for the safety and security of more than 28,000 adults in 20 locations inside our correctional facilities. Even though the reach is far and wide, each small part of the Department is committed to the main tenets of our mission: to increase public safety and reduce recidivism. For more information, please visit http://www.in.gov/core/