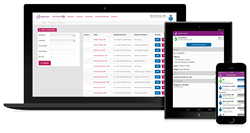 Diagnotes is able to be custom fit allowing us to tailor it to the needs of each of our partner hospices
Indianapolis, Ind. (PRWEB) March 07, 2016
Diagnotes, Inc. has been chosen by national telephone triage service provider, Hospice On Call, to provide trackable and HIPAA-compliant communications between triage and on call care teams.
The nation's premiere telephone triage service for hospice and home care, Hospice On Call has clients with 40 offices coast to coast and a combined census of more than 2,200 patients.
"We were looking for a way to communicate about patient conditions in a quick, efficient and most importantly, secure manner," said Francis Zepeda, Technology and Process Implementation Manager of Hospice On Call. "Diagnotes offered a comprehensive platform that was flexible enough to meet our unique needs; and, the Diagnotes team worked with us to add capabilities in order to create an even more powerful solution."
Diagnotes helps hospitals, health systems and physician practices facilitate, track and manage all patient-related communications. Diagnotes' HIPAA-compliant communication platform supports today's clinical workflows and can expand to support evolving healthcare needs. Components can be used individually or together – and even integrate with existing EHR systems.
Allan Ross, Operations Director for Hospice On Call, stated that "Diagnotes allows our staff to communicate with hospice on call staff while they are engaged with patients with a minimal disruption to the service they are providing, and the system is able to be custom fit allowing us to tailor it to the needs of each of our partner hospices."
"Leaders in national health care, like Hospice On Call, are shifting the way providers interact with one another to improve the quality of care and experience patients receive," said Dave Wortman, Chairman and CEO of Diagnotes, "We look forward to our ongoing partnership with Hospice On Call and their provider partners."
About Diagnotes
With healthcare clients across the country, digital health leader Diagnotes, Inc. provides a HIPAA-compliant and trackable communication platform for patients, physicians and care teams. With Diagnotes, users can exchange messages, patient health information and photos securely from any location on any device, ensuring compliance and improving efficiency, collaboration and patient and provider satisfaction. For more information about Diagnotes, visit http://www.diagnotes.com.
About Hospice on Call
Hospice On Call is a leading provider of on-call & after-hours telephone triage service for hospice, home care and more. Their unique blend of professional staff, custom protocols, and an internet based phone system enable them to serve their clients with maximum efficiency. Hospice On Call is partnered with over 40 offices of 17 organizations coast to coast with a combined census of over 2,200 patients. Quality, value, and above all the kind of care that you yourself would deliver to your patients are the hallmarks of Hospice On Call.