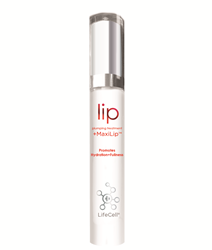 Hollywood, FL (PRWEB) March 07, 2016
On March 1, 2016 LifeCell, the anti-aging skincare company who introduced the world to All-in-One Anti Aging Treatments, launched a brand new product: LifeCell Lip Plumping Treatment. The new lip plumping serum was inspired by the ever-growing trend of plumper lips that is taking social media by storm. Celebrities are embracing the trend more than ever. Even girls as young as 16 are spending hundreds of dollars every few months on lip injection fillers in order to see a full and sexy pout.
As always, LifeCell aims to offer surgery-free alternatives for youthful and healthy skin. After nearly one year of perfecting the formula, the final product is finally available to public. Prior to its release, the only people who were able to try the Lip Plumping Treatment were the celebrities who attended GBK's Oscars and Grammy's gifting lounges.
The new Lip Plumping Treatment, which is available on Lifecellcream.com, is formulated with a patented peptide complex. This complex contains peptides that mimic parts of extracellular matrix (ECM) proteins, which activates the genes important to cellular regeneration. The peptide GHK is a fragment of type 1 collagen molecule and is believed to serve as a biological indicator of increased degradation of the skin matrix. When the key skin matrix-producing cells (fibroblasts) detect increased levels of GHK, they "assume" that the skin matrix is being lost at a higher rate and begin synthesizing it more vigorously. This triggers the synthesis of new collagen and helps to strengthen and smooth skin cells.
LifeCell products are fragrance-free, paraben-free and of course, cruelty-free. The line is certified Cruelty-Free by PETA. In addition, visit here for reviews of Lifecell's flag ship product.