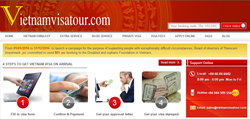 Register for Vietnam visa on arrival with big discount of the Summer Deal
Hanoi (PRWEB) March 08, 2016
Vietnamvisatour.com, belonging to Thiencam Travel., JSC, is a top-ranked online website providing visa-on-arrival services for foreign visitors to Vietnam.
Established in 2009, with seven-years experience in operation of Vietnam visa-on-arrival services, Vietnamvisatour.com has provided visa approval letters for more than 30,000 travelers to Vietnam annually, and the website is evaluated as one of the most reputable online channels in Vietnam.
In summer 2016, a great Summer Deal, offering customers and visitors an economical option for visiting Vietnam during the peak tourism season, will be launched by Thiencam Travel., JSC, from March to September. Accordingly, a large discount of up to 15% is available for every single customer who applies online for visa with promotion code: RIG1VH
The promotion code is applicable to all Vietnam visa-on-arrival services and to visitors from nations worldwide (one-month stay, three-month stay, or six-month stay and Rush service inclusive), airport fast track, and airport private car pick-up services.
For illustration, when a booking a one-month single entry visa with a promotion code, the total amount of charges is $12.80 instead of $15 as normal. Forr group bookings of two or more, visitors are offered a better discount.
It takes 24 hours normally for the document to be processed and the visa approval letter to be delivered to customers. In some cases, the process can be lengthened but no longer than 48 hours.
In order to obtain discount with the promotion code, customers need to follow the four effortless steps below:
1. Fill in the application form and submit promotion code
2. Confirm information and process payment for service fee
3. Checking emails to get visa approval letter
4. Print visa letter before starting your trip to the airport.
Further assistance can be dealt with by Customer Care Department at the following address:
Email: sales(at)vietnamvisatour(dot)com
Hotline 24/7: (+84) 944 599 554
About Thiencam Travel., JSC
As an international travel brand, established in 2009 with its head quarter in Hanoi City, Vietnam.
Thiencam Travel offers a full range of services consisting of Vietnam Visa services, Vietnam Flight tickets, Transportation, Hotel reservation, Vietnam Tours and Indochina Tours. In three sequential years from 2013 to 2015, Thiencam Travel., JSCwas voted to be one of the Top 10 leading travel agencies in Northern Vietnam.