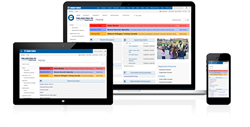 Adventos is grateful to sponsor this community-policing learning event!
Greenwood Village, Colorado (PRWEB) March 07, 2016
An international non-profit that helps senior law enforcement officials provide training, education, experience, and information, the FBI National Academy Associates has been protecting the public safety for more than 80 years.
During the Dallas/Fort Worth Regional Meeting, Texas law enforcement officials will be receive a briefing from Rowlett Chief of Police, Mike Brodnax on the EF4 tornado that struck their community on December 26, 2015. The path through Rowlett was ½ mile wide and four miles long. Over 6000 homes and businesses were left without power.
Adventos™ looks forward to the opportunity to support the North Texas Chapter of the FBI National Academy Associates led by Assistant Chief Mike Young from the North Richland Hills Police Department. Vice President of Marketing at Adventos™, Brian McGrew, will be attending the event to represent Adventos™. Speaking of the event, Brian McGrew, said that "Everyone at Adventos™ is grateful for the opportunity to sponsor this regional meeting so that key learning's on community-policing during a natural disaster can be passed onto other agencies to prepare for and elevate public safety in Texas."
Interested parties can learn more about the SmartForce™ Agency Management System and how it improves community-policing and intelligence collaboration as well as other police processes at http://www.adventos.com/demo.html. After watching the demonstration video, interested law enforcement officials are invited to request a free trial of the agency management system to try for themselves. Go to http://www.adventos.com/demo.html to view the video and request a free trial today.