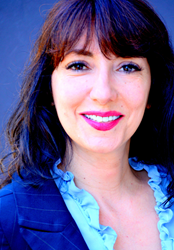 Unfortunately, appearances could be deceiving in this area because an older adult may possibly be at risk for falling, despite appearing physically strong.
Los Angeles, California (PRWEB) March 18, 2016
Producing projects on the topic of aging and falling - a geriatric challenge that is very critical to the lives of older adults - has resulted in several film awards for CSUN psychology professor/writer/actor/host/director/producer Luciana Lagana, aka Dr. Luciana.
Dr. Luciana submitted two different projects, both on aging and falling, to the 2016 Canada International Film Festival. Out of over 1,000 film submissions, Dr. Luciana's TV pilot, as well as her feature film covering this subject, received awards.
The "DR. LUCIANA ON AGING AND FALLING" TV pilot won the Canada festival's Award of Excellence for Best TV Pilot. It was created in collaboration with Del Weston, the director of the Action on Film International Film Festival. Dr. Luciana co-wrote, hosted and co-produced this project, with Weston as director. In 2015, it won three Silver Medal awards at the Global Independent Film Awards for Best Web Series, Best Documentary and Best (Dis)ability Film. It is an official selection at several 2016 film festivals, such as the IndieFEST Film Awards, the Wave Awards and the Blackbird Film Festival. To date, its other 2016 wins are the Grand Prize for Best Television Pilot at the California Film Awards and the Gold Award at the International Film Festival for Women, Social Issues, and Zero Discrimination.
The feature film "AGING AND FALLING," written, hosted, directed and produced by Dr. Luciana, won the Canada festival's Rising Star Award for Best Documentary Feature Film. This film also received the Recognition Award for Best Educational, Instructional and Training film at the 2015 Indie Fest Film Awards and the Honorable Mention Award at the 2015 International Independent Film Awards.
According to the festival's website, the Canada International Film Festival has firmly established itself among the top film festivals in Canada. Held each year in the beautiful and cosmopolitan city of Vancouver, British Columbia, the festival brings the very best of world cinema to Canada from over 90 countries around the world.
For a list of award winners, visit https://www.canadafilmfestival.com/2016.
In addition to her aging and falling film projects, Dr. Luciana has written an academic article on this topic in collaboration with Ani Mamikonian-Zarpas, her former CSUN graduate student and one of the experts in the aging and falling feature film. To view this article, visit http://savvysciencepublisher.com/jms/index.php/JAG/article/viewFile/482/211. Dr. Luciana explained that "the findings of our research suggest that there are ways in which health care providers and their staff could screen older patients for fall risk in a relatively short amount of time. Saving time when assessing fall risk is critical, given that busy primary care physicians often do not have much time to devote to each patient, especially if this person does not seem to need a fall risk evaluation. Unfortunately, appearances could be deceiving in this area because an older adult may possibly be at risk for falling, despite appearing physically strong. It is critical to routinely assess older adults' fall risk as soon as possible, even in hectic medical practices."
"This is a geriatric topic that can be covered from a variety of angles – to include the multiple negative repercussions of falling in the lives of older adults and their loved ones, the many strategies that could be used for fall prevention, and the viewpoint of the experts in this field who have much to offer to help older adults. That's why I put together my 2014 web series on this issue and, in 2015, the TV pilot and feature film. This topic impacts all of us because we know, or have connections to, aging individuals each and every day; that is why I wanted to use multiple forms of media to reach as many people as possible. There are many reasons why the risk of falling increases as people get older, and some falls could be prevented by giving older adults, caregivers, and healthcare providers the right information and preparation," concluded Dr. Luciana.
Luciana Lagana is a caring clinical and experimental psychologist. She is also an established professor of psychology, gerontology, women's health and sexuality at California State University, Northridge (CSUN), where she teaches classes and mentors many undergraduate and graduate students. Additionally, since 2002, she has been conducting government-funded research on the physical, psychological, social, and sexual health of ethnically diverse, primarily low-income older women. Concerning her artistic pursuits, since 2006, she has been studying acting, TV and radio hosting, screenwriting, directing and producing in Los Angeles. She is an award-winning actor/screenwriter/director/producer with 48 IMDb credits for hosting and acting in many independent feature films, TV pilots and web series. She is the writer/lead actor/director/producer of the 2014 award-winning fictional web series "Intimate Temp Agency". Her 2014 "Dr. Luciana Show – Aging and Falling" web series won many awards, including the Best Educational Show Award at the 2015 WorldFest-Houston International Film Festival. She also wrote, hosted, directed and produced the two 2015 award-winning social impact documentary feature films "Understanding Pain in Older Age" and "LGBT United."