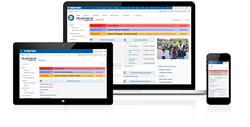 Strengthening Texas law enforcement by connecting people and information for greater levels of public safety!
Greenwood Village, Colorado (PRWEB) March 14, 2016
An estimated 500 law enforcement officials will be in attendance at the annual conference of the Texas Police Chiefs Association. Texas police chiefs will come together to discuss law enforcement trends, legislative changes, and issues of importance to Texas communities.
The Texas Police Chiefs Association will also present the annual Innovation Award and Leadership Award to police chiefs nominated by their peers for superior performance on the job.
Attendees and exhibitors will meet to discuss solutions to police agency needs, products, and tools to help Texas law enforcement agencies operate with "Best Practices."
Adventos™ is excited to join the Texas Police Chiefs at their annual conference as an event sponsor. Brian McGrew, Vice President of Sales and Marketing at Adventos™, will be in attendance. Speaking of the event, Brian McGrew noted that, "The whole team at Adventos™ is grateful to sponsor this important law enforcement conference. With our SmartForce Agency Management System, we look forward to strengthening the Texas law enforcement profession by connecting people and information for greater levels of public safety."
Interested parties can learn more about the SmartForce™ Agency Management System and how it improves community-policing and intelligence collaboration as well as other police processes at http://www.adventos.com/demo.html. After watching the demonstration video, interested law enforcement officials are invited to request a free trial of the agency management system to try for themselves. Go to http://www.adventos.com/demo.html to view the video and request a free trial today.