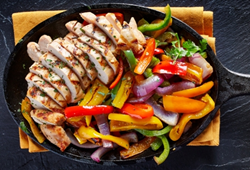 We are very excited about this new policy and the opportunity it provides our financially challenged customers who rely on our home delivered meal service to eat every day.
Elmsford, NY (PRWEB) March 07, 2016
Top Chef Meals announces no cost Federal Express shipping of its custom chef prepared gourmet hand crafted meals to most of the United States east of the Rockies. Effective immediately, all customers who purchase 21 meals will get their meals delivered at no cost to their homes or businesses.
Top Chef Meals uniquely, freshly and custom prepares thousands of meals per week at less than $10 per meal to meet each customer's unique culinary desires. Offering the option to select and change ingredients to avoid allergies or food sensitivities, Top Chef Meals is helping hundreds of people enjoy prepared meals without any health risks.
All Top Chef Meals are freshly prepared by talented chefs to order, with no preservatives, chemicals or trans fats, and are flash frozen for delivery, thus avoiding any chance of spoilage in the delivery process. Customers have the option of storing their meals for up to four days in the refrigerator or placing their meals in the freezer where they are still at their peak flavor for up to three weeks. Meals can be safely stored in the freezer for up to six months, if needed.
About Top Chef Meals
With its simple beginnings in New York, Top Chef Meals now individually prepares affordable, restaurant quality meals, hand-plated by our own chefs and delivered throughout the eastern United States. Our healthy and delicious meals provide a perfect nutritional balance and are perfectly suited for those on a budget.
Additional information about Top Chef Meals can be found by visiting https://www.topchefmeals.com and on Facebook at http://www.facebook.com/TopChefMeals.