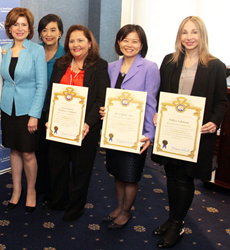 Women are phenomenal entrepreneurs who want to make a lasting economic impact through our work. It takes a sisterhood to make the world a better place.
Rockville, MD (PRWEB) March 07, 2016
DSFederal, Inc. was recognized by the U.S. Small Business Administration (SBA) Wednesday as one of the top Woman-Owned Small Businesses (WOSB) of the Year, commending the firm's economic contribution to the Rockville community and for "inspiring the entrepreneurial spirit of the nation." The event, held at the National Press Club in Washington D.C., honored DSFederal and four other WOSBs, including TribalTech LLC, Elocen Group, Government Business Solutions, and Edifice Solutions.
At the event, SBA Administrator Maria Contreras-Sweet announced that the federal government had surpassed its five percent Woman-Owned Small Business contracting goal for the first time since it was established by Congress in 1994. Out of $90.7 billion in contract awards to small businesses in FY15, the federal government dedicated $17.8 billion to woman-owned firms, adding more than half a million jobs to the economy, Contreras-Sweet said.
"More and more, women-owned small businesses are at the heart of our nation's greatest technological advances, moving the world forward in cybersecurity, clean energy, human capital, and many other industries," she wrote in a Huffington Post blog. "Small businesses are some of the most agile, pioneering, and cost-effective partners for the federal government."
The award comes less than a year after SBA honored CEO Sophia Parker as Maryland's 2015 Small Business Person of the Year, recognizing DSFederal for its substantial growth, commitment to innovation, and philanthropic efforts. Just last week, DSFederal was named a Top Minority-Owned Business by the Washington Business Journal.
"The federal government has paved the way for creating opportunities for women in business," Parker said in a statement. "Women are phenomenal entrepreneurs who want to make a lasting economic impact through our work. It takes a sisterhood to make the world a better place."
About DSFederal: DSFederal is a consulting firm specializing in IT services, data analytics, and training for government agencies. Clients include the Departments of Health and Human Services, Homeland Security, Transportation, Defense, and Agriculture, among others. Projects range from developing mobile apps for fire services professionals to customizing software and processes that manage billions of dollars for HHS agencies. http://www.dsfederal.com