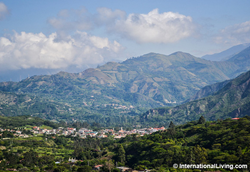 In these countries, retirees will find not only a more relaxed and less-stressful lifestyle, but abundant fresh air, produce, and opportunities for exercise and adventure.
Baltimore, MD (PRWEB) March 07, 2016
Many factors come into play when considering a retirement abroad. Cost of living, prices of rents and real estate, and healthcare options are main concerns. But as more and more expats consider moving abroad for a healthier lifestyle, InternationalLiving.com added an important Healthy Lifestyle category to its 2016 Global Retirement Index.
In these countries, retirees will find not only a more relaxed and less-stressful lifestyle, but abundant fresh air, produce, and opportunities for exercise and adventure.
In the 2016 Global Retirement Index, Costa Rica, Nicaragua, Panama, and Ecuador top the Healthy Lifestyle category.
Losing Weight in Costa Rica
Many expats report losing 30 to 40 pounds in their first year in Costa Rica. It's a great perk of expat life. But what's the cause? Two reasons: They are more active and they have a better diet. It's all part of the healthy lifestyle many expats enjoy when they move to Costa Rica.
Warm weather year-round allows exercise outside any day of the year. And there is no shortage of outdoor activities—walking, hiking, and bike riding are the ways many expats get around town. Beach locations feature surfing, kayaking, and stand-up paddle boarding. Most expat communities also have gyms, with affordable membership fees, personal trainers, yoga teachers, and other fitness instructors.
The second part of the healthy lifestyle in Costa Rica is the diet, with access to fresh fruits and vegetables, including lots of fresh, locally grown produce. Familiar fare like broccoli, lettuce, kale, and onions are readily available, along with more exotic choices like chayote (similar to squash), camote (a white sweet potato), guanabana (a sweet fruit usually made into smoothies), and more.
Every Costa Rican town has a weekly feria, or farmers' market. A couple can fill their fridge for about $30 for the week. Processed foods, food that comes in a box, and those items imported from the U.S. and Europe tend to be expensive, but are available at select stores. Most expats find that they buy those foods a lot less and focus, instead, on a diet of fresh foods prepared at home—making their diet both healthier and less expensive. This is an added health benefit in all four of InternationalLiving.com's top-ranked countries for healthy lifestyle. Not only do expats enjoy cooking more for themselves and having control of their dietary choices, they also gain the health benefits of socializing at the local ferias and mercados with locals and other like-minded expats. In fact, renewed neighborliness and opportunities for socializing are often listed by expats among the top lifestyle benefits of moving abroad.
300 Sunny Mornings in Panama
An abundance of inexpensive fruit is just one of the perks of living in Panama. They are actually more accessible than fast food and quick meals.
Fresh fish and seafood are also incredibly easy to come by, so many expats eat more fish than any other protein. The great food is part of the reason why so many expats say their health improved after moving to Panama…including drops in blood pressure of as much as 10 points. No special diet, just life in Panama.
Add to that 300 sunny mornings a year, vast national parks and preserved rain forests, and two coastlines with water activities like surfing, paddle boarding, snorkeling and more. For this reason, many expats live life outdoors rather than sitting in front of a television or computer screen.
Nicaragua's Biggest Bonus
In Nicaragua, many expats find themselves living a much healthier lifestyle almost by default. Since most locals don't own cars, Nicaraguan cities are a walker's paradise. With that comes an efficient public bus system, shuttle and taxi services.
In addition, all the produce you buy from the farmers in the central marketplace of any city is abundant, fresh, and local. The oranges may not be as plump and bright orange as the chemically fertilized industrial variety, but they are ripe and fresh from the tree and deliciously sweet. Cows, chickens, and pigs are mostly free-range. And fresh fish caught the same morning costs between $3 and $4 a pound.
These factors, combined with the lack of stress thanks to a low cost of living, make for naturally healthy, day-to-day living. Expats tell of getting off meds they were taking for 15 to 20 years in the U.S. or Canada, including statin drugs, blood-pressure medicine, allergy medicine, and blood thinners.
Ecuador Makes Healthy Living Easy
Imagine being directly on the equator but with elevations ranging from sea level to 14,000 feet. That gives Ecuador an extraordinary climate and a year-round growing cycle for a huge variety of healthy fruits and vegetables. From avocados to zapotes, Ecuador has it all. (A zapote, sometimes spelled sapote, is a small, brown, vitamin-C-rich fruit with an orange fleshy interior, especially tasty in fruit shakes and ice cream.)
Thanks to this ideal climate, expats spend much of their time outdoors in Ecuador. Walking is a pleasure. Most expats, in fact, don't own a car, preferring to walk about their daily errands and to visit friends or attend cultural events.
The beautiful scenery is a plus, from the sparkling blue Pacific Ocean to the majestic Andes Mountains and everything in between, including the spectacular Amazon basin on the eastern side of the Andes.
Dining out at regional restaurants is a healthy choice as well. In the Sierra region, el menu del dia (the set menu of the day) at a typical restaurant might include a starter of popcorn or corn nuts, always accompanied by a fresh, spicy aji salsa, followed by a plate heaped with salad, vegetables, rice and potatoes and meat of some kind (usually pork or chicken) along with a glass of freshly squeezed juice and for dessert, usually fruit or ice cream. An average price is about $2.50.
The full report on these four healthy retirement havens can be read here. The Top 4 Countries in the World for Healthy Living.
Editor's Note: Members of the media have full permission to reproduce the article linked above once credit is given to InternationalLiving.com.
Media Contact: For information about InternationalLiving.com content republishing, available source material or to book an interview for radio, TV or print with one of our experts, contact Associate Editor Carol Barron, 772-678-0287 (US), CBarron@InternationalLiving.com or visit the Media Center. For automatic updates on the most current stories, follow International Living Media on Twitter.
For 35 years, InternationalLiving.com has been the leading authority for anyone looking for global retirement or relocation opportunities. Through its monthly magazine and related e-letters, extensive website, podcasts, online bookstore, and events held around the world, InternationalLiving.com provides information and services to help its readers live better, travel farther, have more fun, save more money, and find better business opportunities when they expand their world beyond their own shores. InternationalLiving.com has more than 200 correspondents traveling the globe, investigating the best opportunities for travel, retirement, real estate, and investment.